Taylor Battaglia, APRN, CNM
Certified Nurse Midwife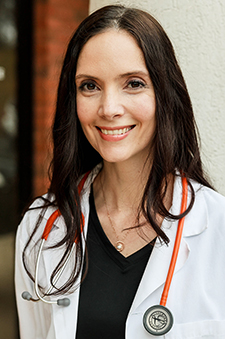 Taylor Battaglia is a Registered Nurse and Certified Nurse Midwife at Cherokee Women's Health Specialists.
Taylor always knew she wanted to serve others. After college she married her husband and soon after they started a family. Four children later, and with a very busy and fulfilled life, Taylor knew there was still more she wanted to do. She felt a calling on her life to become a nurse midwife. She had used midwives during the births of her children and loved the experience. Taylor had also helped in her community as a doula.
With this busy life, she wondered how she would go back to school to pursue this calling. She wasn't sure, but feels God made a way.
A native of Georgia, Taylor received her BSN from Kennesaw State University. She went on to receive her MSN from Frontier Nursing University, known as "the birthplace of midwifery".
Taylor's passion is helping women. As a registered nurse, she spent her time in labor and delivery. Her favorite part of being a certified nurse midwife is being able to provide supportive care throughout pregnancy and into labor and delivery. She loves educating women and offering complimentary therapies to help them during pregnancy and the process of birth.
In her free time, Taylor enjoys spending time with her family, baking, cooking, knitting, and occasional gardening.
Educational Background
Master of Science in Midwifery – Frontier Nursing University, Hyden, KY
BSN – Kennesaw State University, Kennesaw, GA
Certifications
CNM – Certified Nurse Midwife
RN – Registered Nurse
BLS – Basic Life Support Provider
NRP – Neonatal Resuscitation Program Provider
EFM – Advanced Electronic Fetal Monitoring Course
Affiliations
American College of Nurse-Midwives, member
Georgia chapter ACMN, member
Sigma Theta Tau
Licensed
State of Georgia
Languages
English