The Orgasm Shot® (O-Shot®)
Problems with sexual health can affect us all. Genetics, aging, and lifestyle habits can all have a negative impact on our bodies. In the past, women had to rely on psychological counseling, hormones, or invasive surgical procedures to treat issues involving their sexual experience.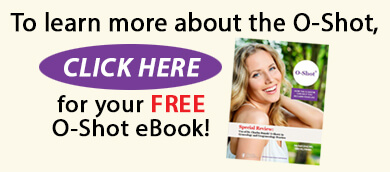 Download your FREE O-Shot eBook
Thankfully, the O-Shot, also known as the Orgasm Shot, is available. The O-Shot is a non-surgical procedure designed to help women from all walks of life improve their sexual health and well-being that uses your own body's natural responses to rejuvenate your vaginal tissue.
How the O-Shot Helps Treat Sexual Dysfunction
Sexual health can be an awkward subject for many women but addressing the issue head-on can be life-changing. Whether you suffer from a low libido, vaginal dryness, find intercourse painful or have trouble regularly reaching orgasm, the Orgasm Shot may be able to help. The O-Shot can also help women who suffer from leaky bladder and incontinence because vaginal tightness is improved.
An added benefit of perineoplasty is that, by making these adjustments, the surgery also serves to restore a woman's confidence, and physically increase her levels of sexual pleasure.
READ O-SHOT ARTICLES
Read how one patient put the fireworks back in her marriage. And read why another patient says, "I'll have what she's having!" after getting the O-Shot.
Dr. Litrel discusses how the O-Shot can help treat sexual issues.
How the O-Shot Helps Treat Urinary Incontinence
Dr. Litrel talks about treating urinary incontinence with the O-Shot.
Patient Testimonials
Dr. Haley describes how the O-Shot has helped alleviate or reduce incontinence issues in his patients.
How Does The O-Shot Work?
The Orgasm Shot uses your body's natural responses to rejuvenate vaginal tissue and maximize function. Through Platelet-Rich-Plasma (PRP) therapy, the O-Shot is able to safely and effectively enhance a woman's sexual pleasure.
PRP cultivated from your own blood naturally activates localized stem cells which stimulate the vagina. With an overabundance of restorative Platelets in the vagina and clitoris, sexual function is improved and orgasms are positively impacted.
The PRP can have an immediate effect on your sexual arousal, natural lubrication, and vaginal tightness. The Platelets will continue to have a restorative effect on your body over the next several months but the overall results are much longer lasting.
Although results vary on a case by case basis, many patients experience enhanced pleasure for over a year. Because the O-Shot is both safe and effective, future treatments can be given to maintain results as needed.
The O-Shot is a holistic approach to treating sexual dysfunction and urinary incontinence. Dr. Litrel explains more in this O-Shot article.
What to Expect
The O-Shot is a simple in-office treatment for women seeking to boost their sexual health naturally, and without surgery. During your consultation with one of our double board-certified specialists, you'll be guided on every aspect of the procedure so you can make an informed decision.
The O-Shot may be recommended for women who experience:
Low Libido
Trouble Reaching Orgasm
Painful Intercourse
Menopause
Leaky Bladder
Incontinence
To further help determine if you're a good candidate for the O-Shot, read this article.
Once you've decided the Orgasm Shot is right for you, a one-time visit will be scheduled for your treatment. After a simple blood draw, your doctor will separate the plasma while you wait. The PRP is then injected in and around the clitoris, the nerves that supply it, and in the sensitive regions of the vagina.
Because the O-Shot utilizes a small needle, minimal side effects are usually seen. You may experience slight swelling, bruising, pain, or numbness around the injection site for a short time post-treatment. The injected Platelets also have anti-inflammatory properties which can help tame side effects.
No downtime is required for the O-Shot procedure. After your treatment, you can go about your daily activities. Those anxious to put the Orgasm Shot to the test are free to do so the same day. However, it's important to remember that results will continue to improve over the next several months.
Read more about one patient's full experience with the O-Shot here.
Why Choose the O-Shot?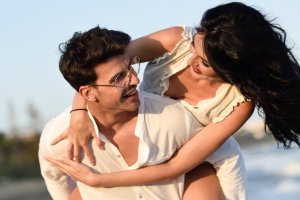 The O-Shot is a non-surgical procedure specifically designed to improve a woman's sexual experience. If you're unsatisfied with your current sexual health and satisfaction, it might be time to consider enlisting the help of the Orgasm Shot.
While other procedures have similar results, the O-Shot is a minimally-invasive way to restore sexual health to all new heights. With one in-office treatment, you'll get beneficial results lasting up to a year or more.
The O-Shot can give you a younger looking and feeling vagina. The natural smoothness and pink color can be restored to the skin on and around the vulva (lips of the vagina). You may also experience a tighter vaginal opening and increased lubrication during arousal and intercourse.
Women who opt for the O-Shot often experience a greater sexual desire than they previously did. Stimulation to the clitoris and G-spot have a larger impact after the O-Shot is given as well. Typically, orgasms are stronger, longer-lasting, and more frequent for women who opt for the Orgasm Shot.
Because vaginal tightness is improved, the O-Shot can help women who suffer from leaky bladder or incontinence. Women who experience pain during intercourse can also benefit from the Orgasm Shot. Whatever the reason you choose the O-Shot, your overall sexual well-being can be enhanced.
Ready to learn more about the O-Shot? Call to schedule a free consultation at our Woodstock or Canton office at 770.720.7733 or request an appointment online.
O-Shot Articles