Telemedicine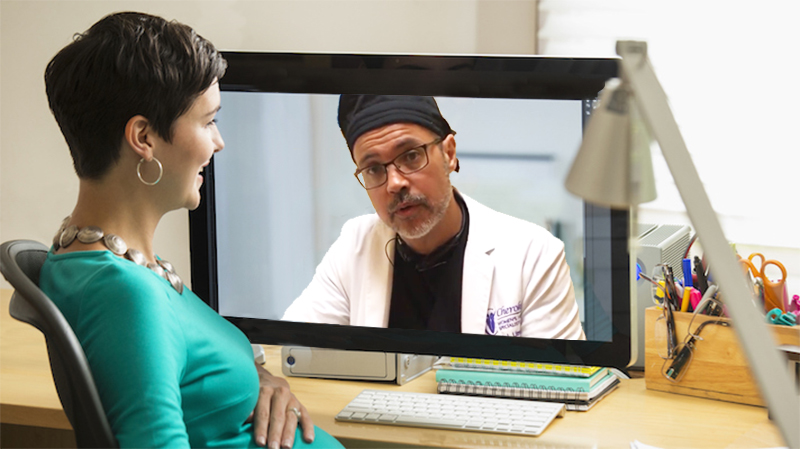 See Your Doctor From Home
See your OB/GYN safely with Telemedicine, a service at Cherokee Women's Health that allows you to see your doctor from home, virtually.

Most telemedicine appointments only require a simple phone call, while others may require a video call. But either way, they're very simple and our patients love the convenience.
Virtual appointments are just one more way we're working every day to keep you, our valued patient, safe and healthy.
NOTE: Please schedule an appointment if you have any health changes or concerns.

If you are experiencing any health changes, have ongoing issues or experiencing any problems, we strongly recommend that you do not wait to schedule an appointment until this threat is over.
Dr. Haley explains how we take care of your problems safely with a virtual visit with one of our physicians.
What is Telemedicine?
Telemedicine is an appointment just like a visit to the exam room, except it takes place in the comfort of your own home or in a quiet, private, distraction-free environment of your choosing.
Insurance may cover a telemedicine appointment, depending on your plan, or affordable options are available.
What Kind of Appointment Can I Make?

Manage Medications
When simply adjusting a medication or checking in for refill requests, there's no need to come back into the office. However, a 10- or 15-minute conversation is often necessary, or at least recommended, which can be conducted over the phone.

Hormone or Birth Control Management
Questions regarding hormonal problems or changes or birth control questions can be managed through telemedicine. The physician will be able to discuss options for you and get you on an effective treatment plan for your optimal health.

Infections Requiring Treatment
Common infections, such as a UTI, yeast or BV, often do not require an actual exam and can be diagnosed and treated through telemedicine.

GYN Problems
Often women wait for their annual appointment to discuss any changes in their health with their doctor. However, if anything should arise between these routine visits that you are unsure of the significance, you can discuss these issues with your doctor in a telemedicine appointment.

Any unusual pain or bleeding, hormonal swings or changes, changes in appetite or bowel habits are concerns that your doctor would like to know about.
Take Care of Yourself – Make a Telemedicine Appointment Today
Your health is of the upmost importance to us. Do not put off taking care of yourself if you have any concerns.
To schedule a telemedicine appointment, simply call our office at 770.720.7733. It's that easy.