Michael Litrel, MD, FACOG, FPMRS
Scroll down to see an interview with Dr. Litrel.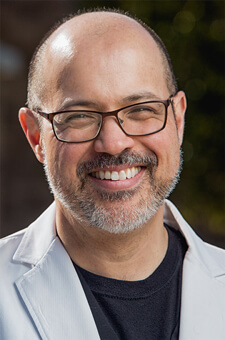 Dr. Litrel's motto is "We understand science, we practice medicine and we believe in God." Believing that the mind, body and soul are all connected, he treats his patients wholly. A urogynecological and female reconstructive cosmetic surgeon, Dr. Litrel is double board-certified in the subspecialty Female Pelvic Medicine and Reconstructive Surgery and in Obstetrics and Gynecology.
Dr. Litrel shares his unique philosophy that guides his patient care.
"I want to have always done my best, to have always been honest and to accomplish what God has put me on the planet to do. So many women suffer in silence with problems that come after childbirth, because their bodies are never the same. It's wonderful to hear from my patients that they finally feel like themselves again after treatment. This makes me very happy — it is a privilege to help.

– Dr. Michael Litrel
Dr. Litrel trained for eight years at Emory University School of Medicine under the mentorship of multiple renowned surgeons, including John D. Thompson, John Rock, Cullen Richardson, William Saye, Ira Horowitz, and Niall Galloway.
At the Institute of Gynecology, he studied female cosmetic plastic gynecology under the private tutelage of Professor Adam Ostrzenski, the discoverer of the G-spot.
During residency, Dr. Litrel studied minimally invasive reconstructive laparoscopic surgery at the Advanced Laparoscopic Training Center, and upon completion of his surgical training, he joined the highly respected surgeon Dr. James Cross in private practice in 1997. He worked under his mentorship for eight years until Dr. Cross's retirement in 2005.
Dr. Litrel is in private practice, and is also a Clinical Professor at both Emory University School of Medicine and Medical College of Georgia. He trains doctors in the techniques he has developed in genitoplastic and pelviplastic surgery, with a book in progress documenting this area of his specialty. Certified by both the American Academy of Cosmetic Surgery (AACS) and the Cellular Medicine Association (CMA), Dr. Litrel is authorized to deliver the O-Shot®.
When Dr. Litrel is not practicing medicine, he enjoys volunteering in the community and spending time with his wife and their two sons.
Areas of Expertise
Pelvic pain management
Advanced pelvic surgery
Vaginal rejuvenation – both non-surgical and surgical
Sexual dysfunction management
Urinary incontinence and bladder problems
Areas of Expertise – Surgical
Advanced female pelvic reconstruction surgery
Pelvic organ prolapse surgery
Advanced cosmetic vaginal surgery
Vaginal rejuvenation
Vaginoplasty
Labiaplasty
Hymenoplasty
Childbirth injury including anal sphincter injury
Vaginal, perineal and labial distortion
Perineoplasty
Surgical corrections for women with prior surgery for prolapse or vaginal rejuvenation
Bladder sling surgery
Posterior repair (rectocele)
Paravaginal repair (cystocele)
Mesh complications or mesh removal surgery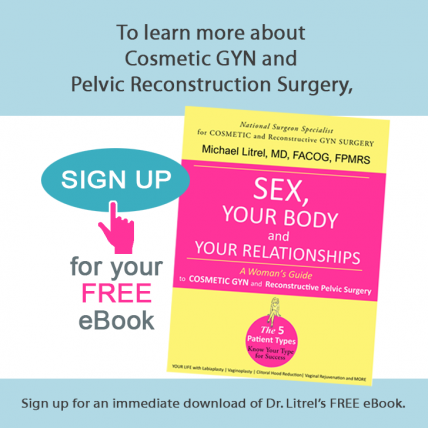 An expert in cosmetic GYN and pelvic reconstruction surgery, Dr. Litrel shares valuable information and patient testimonials in this free eBook.
SIGN UP to receive your free copy.
---
A verified RealSelf doctor, Dr. Litrel shares before and after photos, patient testimonials and responds to vaginal rejuvenation questions.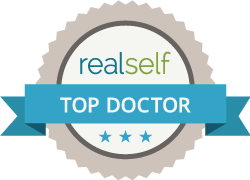 ---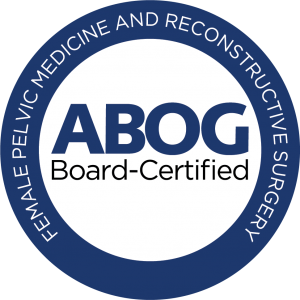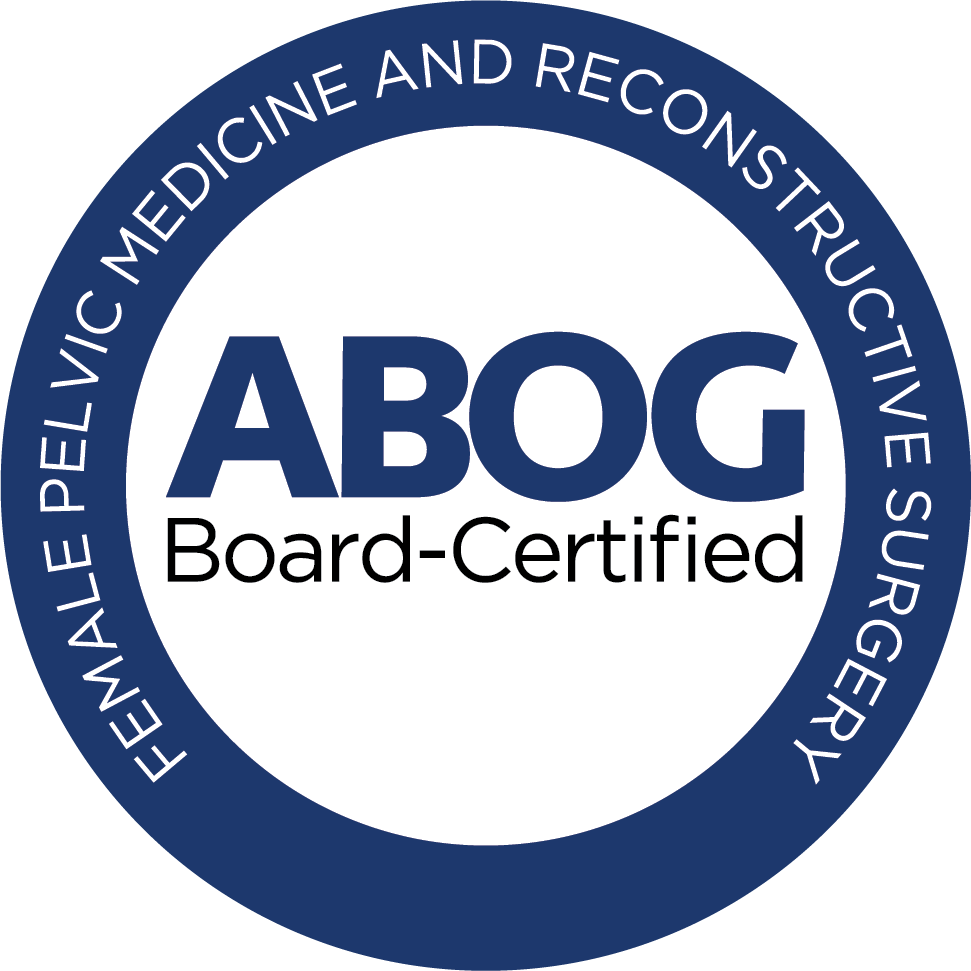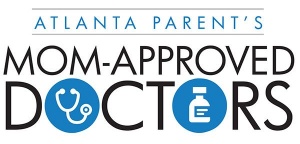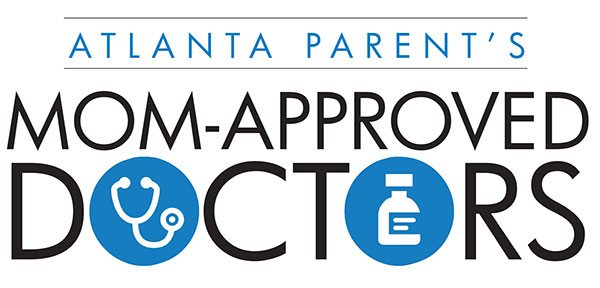 ---
Educational Background
Emory University, Atlanta, Georgia
Residency, Department of Obstetrics and Gynecology 1997
Emory University, Atlanta, Georgia
Degree: MD 1993
Wesleyan University, Middletown, Connecticut
Degree: BA, Molecular Biology and Biochemistry 1987
Board Certifications
Female Pelvic Medicine and Reconstructive Surgery
American Board of Obstetrics and Gynecology
Awards, Academic Honors and Leadership
Castle Connolly 'Top Doctor' Award for Atlanta in 2017, 2018 & 2019
Alpha Omega Alpha, National Medical Honor Society elected 1993
Cherokee-Pickens Medical Society
President 2006-2014
Northside Hospital Cherokee
Chairman of Department of Surgery 2009-2013
Emory University School of Medicine, Atlanta, Georgia
Assistant Clinical Professor 1999- current
Medical College of Georgia
Clinical Assistant Professor 2001-current
Cherokee County Board of Health
Chairman 2001-2013, board member 2013-current
The Hope Center for Pregnancy Crisis
Medical Director 2006-current
Cherokee County Health Department
Director of Women's Health Services 1999-2010
Director of Gynecological Surgery
Humble Surgery Hospital 2010-2013
Professional Memberships
American Urogynecologic Society Member
Fellow, American College of Obstetrics and Gynecology
American Association of Gynecologic Laparoscopists
American Academy of Cosmetic Surgery (AACS)
Cherokee-Pickens Medical Society
American Academy of Anti-Aging Medicine
Georgia Obstetrical and Gynecological Society
Medical Association of Georgia
Licensure
State of Georgia and Florida
Author and Speaker
Author of two books on the relationship between faith and health
Speaker for audience of both public forums and medical conferences
Award-winning columnist
Dr. Litrel is the author of The Eyes Don't See, a book about the relationship between faith and health. He regularly publishes articles in the cutting edge arena of integrative health. His speaking engagements include audiences both layman and medical, with venues including the American Academy of Anti-Aging Medicine.
Dr. Litrel's Blog
Read Dr. Litrel's blog, where he shares his thoughts on medicine, faith, relationships and more.