Vaginal Rejuvenation

Our vaginal rejuvenation experts are double board-certified Female Pelvic Medicine and Reconstructive Surgery specialists. As both urogynecologists and OB/GYNs, they're uniquely qualified in female pelvic anatomy and have the experience and expertise to address the changes that occur after childbirth.
REQUEST A FREE CONSULTATION
Cherokee Women's Health Provides Vaginal Rejuvenation and Reconstructive Services
Following are some of the vaginal rejuvenation services we provide:
Vaginoplasty – A procedure aimed at tightening lax muscles to achieve a narrower and tighter vaginal canal and smaller opening.
Labiaplasty – An aesthetic procedure that corrects enlarged or asymmetrical labia.
ThermiVa – An in-office, non-surgical procedure for labia and vaginal tightening.
Vaginal Lengthening – Non-invasive and surgical options are available to repair a shortened vagina, a condition that occurs as a result of gynecological surgery, cervical cancer or radiation therapy.
Hymenoplasty – The cosmetic repair or restoration of a woman's hymen, also known as revirginization.
Clitoral Hood Reduction – A cosmetic surgical procedure which reduces the excess skin (prepuce) that covers the clitoris.
O-Shot – A procedure that uses your body's natural responses to rejuvenate vaginal tissue and maximize function.
Perineoplasty – A procedure for tightening the vaginal opening and improving its appearance, or for enlarging a vaginal opening that is too small.
SIGN UP FOR A LIMITED SERIES ON VAGINAL REJUVENATION!
READ OUR VAGINAL REJUVENATION TESTIMONIALS
Get your FREE Vaginal Rejuvenation eBook today!
Simply fill out the form below and we'll send you your FREE copy!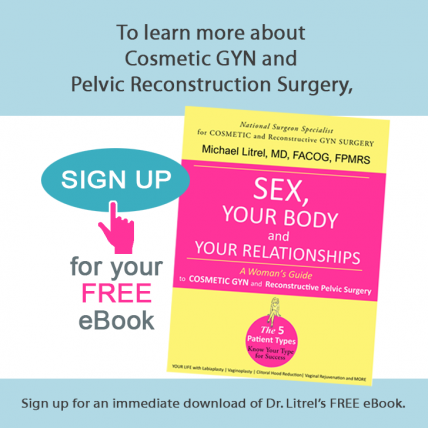 Our Doctors are on RealSelf.com

Dr. Litrel, Dr. Gandhi and Dr. Haley are on RealSelf.com, where they answer questions from real patients regarding vaginal rejuvenation procedures. You can also read patient reviews and see their before and after photos.
We're Here For You
Childbirth and aging can take a toll on a woman's body, but help is available. Call us today at 770.721.6060 or request more information now.