GYN Problems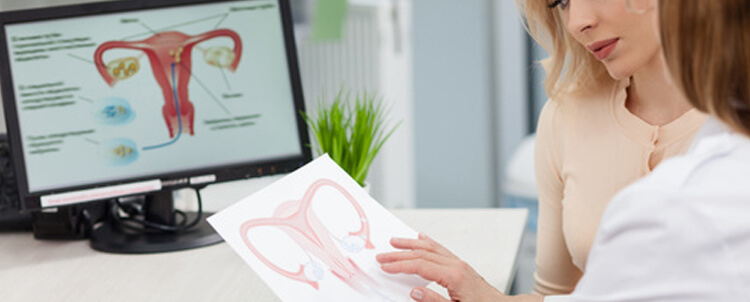 Pelvic pain, incontinence, heavy bleeding and endometriosis are among the top gynecological issues that affect women. Every woman knows the importance of regular pelvic checkups and Pap smears, but sometimes, gynecological problems may occur between visits that require immediate attention. Our staff of highly specialized, board-certified OB/GYNs and FPMRS surgeons have decades of training and experience between them. They are familiar with the issues unique to women's health, and have both the knowledge and up-to-date equipment to diagnose and treat the conditions you may possibly encounter.
Top Gynecological Symptoms
Pelvic Pain
Incontinence
Abnormal or heavy bleeding
Endometriosis
READ OUR GYN PROBLEMS TESTIMONIALS
Pelvic Pain
Mild pelvic pain is a common occurrence over the course of a woman's lifetime, but an intermittent or steady pain of the lower abdominal area, or discomfort radiating to the buttocks, thighs and lower back should always be questioned and reported to your doctor to check for possible conditions that could be a detriment to your pelvic health, especially if you are pregnant. Additional pelvic pain symptoms listed on our website can help you decide if you may need immediate attention. Once the cause of your pelvic pain is diagnosed, our experts can decide if your particular problem may require medication, lifestyle changes, physical therapy or surgery to correct the problem.
Incontinence
Urinary stress Incontinence: Involuntary urine leakage occurs while laughing, sneezing or coughing. Often, there is an inability to reach a bathroom quickly. There are multiple physical and neurological conditions that can cause urinary stress incontinence, just as there are many treatments, both surgical and non-surgical. Treatment may include simple lifestyle changes, medications, physical therapy, devices, and surgical adjustments to correct the problem.
Anal incontinence: The inability to control hard or liquid fecal matter or mucous from leaking out is cause for concern for many women, and this problem with its many causes can be corrected by our specialists through medication, surgery and physical therapy. There is no need to suffer through the humiliation of 'accidents'.
Irregular Bleeding
Irregular or abnormal bleeding can sometimes be indicative of a bigger problem, and should always be reported to your doctor in order to rule out any danger to your pelvic health. Call to make an appointment if you experience bleeding at unusual times, especially if accompanied by pelvic pain or foul-smelling thick discharge. If you're not sure if what you're experiencing is abnormal, our simple quiz can help you decide. Usually the solution is a simple one that can rectify the situation, such as a change or modification in medication, an antibiotic, or a minor procedure such as ablation.
Endometriosis
Sometimes tissue called endometrium from the lining of the uterus can appear in places outside of the uterus, causing lower back and pelvic pain, bleeding, fatigue, menstrual problems and other assorted symptoms. Endometriosis can also be linked to infertility. Our doctors can address these issues by prescribing anti-inflammatory medication, infertility treatment and/or surgery, as necessary.
We Can Help
If you're experiencing pelvic health issues, call us at 770.720.7733 or request an appointment online.
GYN Reviews
I'm Back in Good Health
The doctors and staff are caring, understanding and amazing! As a women who has always had female problems, I am so fortunate that the Lord… Read more "I'm Back in Good Health"
Mary G.
I Love Dr. Litrel!
I love Dr. Litrel! I have experienced a lot of issues with my female parts and he has been there throughout everything — from coming… Read more "I Love Dr. Litrel!"
Christina H.
Dr. Gandhi is Simply the Best
Tracy A.
Love My New Doctor
Diane W.
Dr. James Haley is a Great Doctor
Dr. James Haley is a great doctor and the staff is very friendly. I've been going to Cherokee Women's for almost 3 years, they're awesome.
Adaliz V.