GYN Problems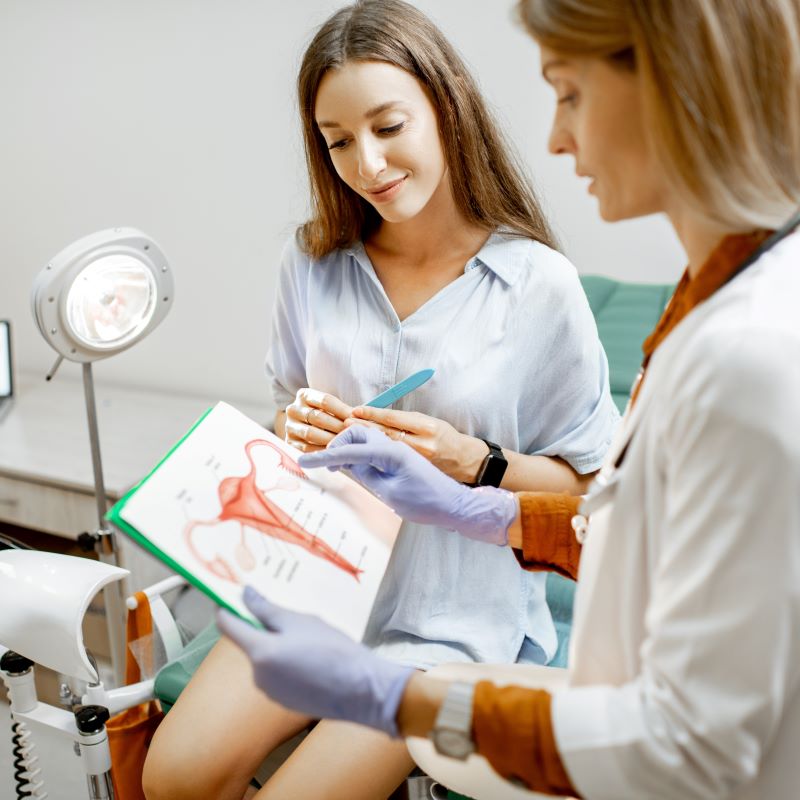 Pelvic pain, incontinence, heavy bleeding and endometriosis are among the top gynecological issues that affect women. Every woman knows the importance of regular pelvic checkups and Pap smears, but sometimes, gynecological problems may occur between visits that require immediate attention.
Common GYN Problems
Our staff of highly specialized, board-certified OB/GYNs and FPMRS surgeons have decades of training and experience between them. They are familiar with the issues unique to women's health, and have both the knowledge and up-to-date equipment to diagnose and treat the conditions you may possibly encounter.
We offer a full range of GYN services. Here, we discuss common issues and treatments:
URINARY INCONTINENCE – One in five women suffer from urinary incontinence, which is also called bladder leakage. Leakage often occurs during simple everyday activities like coughing, jogging and laughing.
BLEEDING – Heavy or abnormal bleeding can sometimes be indicative of a bigger problem, and should always be reported to your doctor in order to rule out any danger to your pelvic health. Here, we define what is considered normal and what is abnormal when it comes to your period.
ENDOMETRIOSIS – Sometimes tissue called endometrium from the lining of the uterus can appear in places outside of the uterus, causing lower back and pelvic pain, bleeding, fatigue, menstrual problems and other assorted symptoms. Endometriosis can also be linked to infertility.
PCOS (POLYSYSTIC OVARY SYNDROME) – Polycystic ovary syndrome is a hormonal endocrine disorder that disrupts the menstrual cycle often resulting in anovulation (not ovulating) during a women's childbearing years.
PELVIC PAIN – Pelvic pain symptoms can help you decide if you may need immediate attention. Once the cause of your pelvic pain is diagnosed, our experts can decide if your particular problem may require medication, lifestyle changes, physical therapy or surgery to correct the problem.
STD/STI – Read how STDs (sexually transmitted diseases) are spread so you can learn the best ways to treat and prevent them.
SEXUAL HEALTH – Often, as a woman ages, gives birth or simply loses the desire for sex, she thinks she just needs to "live with it." Learn both surgical and non-surgical options for optimum sexual health.
SHALLOW VAGINA – Having a shallow vagina can create noticeable problems, especially with intercourse. Pain and discomfort are never normal. Learn more here.
GYN TREATMENTS – A variety of treatments are available to treat GYN problems. Our physicians will partner with you to diagnose and recommend the best treatment options for your unique situation.
PELVIC RECONSTRUCTION – Pregnancy and childbirth can damage a woman's internal organs, resulting in pelvic pain, pelvic heaviness, back pain, bladder leakage, pain with sex, vaginal looseness, problems with defecation, sexual dysfunction and many other conditions.
ABLATION – If you suffer from long, heavy periods, an endometrial ablation could offer relief. An ablation is used to treat excessive menstrual blood loss, and can offer women long-term relief from painful and long periods as an alternative to a hysterectomy.
HYSTERECTOMY – A hysterectomy is an operation that removes a woman's uterus. A woman may have a hysterectomy for different reasons, including uterine fibroids, uterine prolapse, endometriosis and more.
TRANSVAGINAL MESH REVISION AND REPAIR – The procedure was created to permanently fix pelvic organ prolapse and stress urinary incontinence which are conditions that typically occur in women after a hysterectomy, menopause or childbirth.
LAPAROSCOPIC SURGERY – Laparoscopic surgery is also referred to as minimally invasive surgery. This is a surgical procedure performed with the assistance of a video camera and several thin instruments.
ROBOTIC SURGERY – Robotic surgery is, in essence, hands-on surgery. It implements the most specialized and precise instrumentation known to modern medicine. Your surgeon has total control at all times, but the arms used in robotics have much more flexibility.
The doctors and staff are caring, understanding and amazing! As a women who has always had female problems, I am so fortunate that the Lord… Read more "I'm Back in Good Health"
Mary G.
I love Dr. Litrel! I have experienced a lot of issues with my female parts and he has been there throughout everything — from coming… Read more "I Love Dr. Litrel!"
Christina H.
READ OUR GYN PROBLEMS TESTIMONIALS
We Can Help
If you have questions or are experiencing GYN health issues, call us at 770.720.7733 or request an appointment online.
GYN Reviews
The doctors and staff are caring, understanding and amazing! As a women who has always had female problems, I am so fortunate that the Lord… Read more "I'm Back in Good Health"
Mary G.