Robert Barrett, MD, FACOG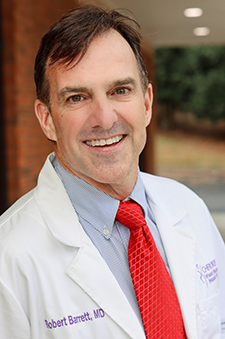 Dr. Robert Barrett has been an OB/GYN in North Georgia since 2005. Dr. Barrett is a well-respected physician who is highly recommended by his patients.
After earning a bachelor's from the University of California at Los Angeles and a master's degree from the University of Southern California, Dr. Barrett attended medical school at the University of Cincinnati. He then completed a residency program in obstetrics and gynecology at the Cleveland Clinic and the MetroHealth Medical Center.
Dr. Barrett shares why he's so passionate about being an OB/GYN.
"I come from a humble background. Both of my parents were high school dropouts and encouraged me to believe anything was possible. At age seven, an accident made a life-altering impact on me. After being kicked by a horse, the injuries were so severe that I spent an entire month in a children's hospital. I was in awe of the doctors, nurses, and medical staff that took care of me. It was then that I knew someday I would dedicate my life to working in the healthcare field.

Many years later while in medical school, I decided to go into obstetrics after delivering a baby for the first time. I was so enamored by the whole birth experience that I knew I had to become an OB/GYN."

– Dr. Robert Barrett
In addition to being board-certified by the American Board of Obstetrics and Gynecology, Dr. Barrett is a Fellow of the American College of Obstetricians and Gynecologists.
In his free time, Dr. Barrett enjoys challenging race competitions, such as ultra marathons. He was a track athlete in college and has continued his love of sports throughout his lifetime. Dr. Barrett loves a challenge, which he embodies in all areas of life, including the passion he has for taking care of his patients. Dr. Barrett also enjoys spending time with his wife, Valerie, and his two children, Sara and Luke.
Areas of Expertise
Obstetrics, including high-risk OB
VBACs
Contraception solutions
Pelvic pain management
Endometriosis treatment
Birth control management
Infertility
Vaginal surgery
Educational Background
Cleveland Clinic Foundation, Cleveland, OH
Residency, Department of Gynecology
Metro Health Medical Center, Cleveland, OH
Residency, Department of Obstetrics and Gynecology
University of Cincinnati College of Medicine, Cincinnati, OH
Degree: MD
University of Southern California, Los Angeles, CA
Degree: MS in Anatomy and Cell Biology
University of California, Los Angeles, CA
Degree: BS, Kinesiology
Board Certifications
American Board of Obstetrics and Gynecology
Awards and Honors
Castle Connolly 'Top Doctor' Award for Atlanta in 2018-2023
Resident of Excellence Award in Teaching – Metro Health Medical Center
Golden Scalpel Award – University of Cincinnati
Professional Memberships
Fellow, American College of Obstetrics and Gynecology
Georgia Obstetrical and Gynecological Society
Hospital Appointments
Northside Hospital Cherokee, Canton, Georgia
Licensure
State of Georgia
Languages
English