Lisa McLeod, DO, FACOOG
Scroll down to see an interview with Dr. McLeod.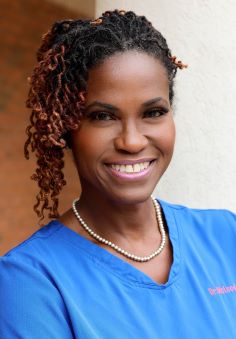 Dr. Lisa McLeod has been a practicing OB/GYN since 2014. As a Doctor of Osteopathic Medicine, she is passionate about patient education, community outreach and integrating osteopathic manipulation into clinical practice.
Dr. McLeod shares why she's so passionate about being an OB/GYN.
"I received my undergraduate degree in engineering. But then, in my early twenties, I began to have questions about my own body as a female, which led me to start thinking about becoming a doctor so I could do something significant to affect change in women. I decided to go into osteopathic medicine because it appealed to me from my engineering side — to be able to understand the body mechanics and fluidity of the entire body. When I decided to specialize in obstetrics, I knew I had found my purpose.

– Dr. Lisa McLeod
Dr. McLeod is originally from New York and began practicing there after receiving her Doctor of Osteopathic Medicine training from Western University of Health Sciences in California. She has led multiple speaking engagements and has participated in clinical and public health activities in Haiti, Ecuador, Ghana and Cuba.
Having a love for travel, Dr. McLeod has been to over 40 countries. In addition to her busy career, she is also a single mom to her son, who has already been to several countries himself.
Areas of Expertise
Birth control management
Annual GYN exams
Holistic pregnancy management
Pelvic pain management
Endometriosis treatment
Educational Background
Residency – Wyckoff Heights Medical Center- Brooklyn New York
Medical – Western University of Health Sciences-Pomona, California
Masters – Long Island University-Brooklyn, New York
Undergraduate Drexel University
Board Certifications
Board-Certified OB/GYN
Licensure
State of Georgia
State of New York
Languages
English
Conversant/Medical Spanish