About Us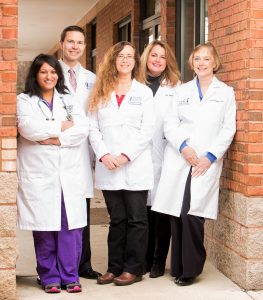 At Cherokee Women's Health we have assembled a dynamic team of physicians and midlevels who concentrate exclusively on diagnosing, preventing and treating women's health problems. Because we are the primary care provider for many of our patients, we serve as your first guide in finding solutions for better health. Our surgeons are national leaders in minimally invasive laparoscopic techniques, but we also work with you to find the commonsense health solutions that are just as important for your lifelong health.
Our services include:
Annual exams, birth control and cancer screening
Infertility treatments, office solutions for bleeding and pain
Normal and high risk obstetrics, with midwives on staff
Pelvic reconstruction and bladder repair
Anti-aging programs including menopause management, weight loss and nutrition counseling.
Why Choose Cherokee Women's Health?
Two very different things need to come together to create an environment for the best quality health care. You will find them both here at Cherokee Women's:
The Quality of Medicine We Practice
Scan the walls of our practice and the online profiles of our providers, and you'll find the telling signs of our continuous pursuit of medical excellence:
Academic honors
Teaching awards
Recognition by medical peers
Leaders of physician organizations
Featured speakers at national medical conferences.
Caring Relationships with Our Patients
Harder to quantify, but even more important, are our relationships with our patients. At Cherokee Women's you'll find a group of physicians, midlevel providers and staff working together with a common philosophy: The quality of the relationship with the patient matters.
We respect your time
We are honest in our communications with you
We treat you with the care we would want for ourselves, our friends, and our family.
Providers and Staff
To learn more about us, visit the sections on our Providers and Staff. Enjoy your online visit, and we hope to meet you in person!
Request a Consultation
Recent Posts
Categories
Testimonials
"Dr. Litrel was a fantastic doctor. I had my first exam with him, although at first I was skeptical about a male doctor for my GYN. But after I met him I'm glad I kept an open mind, and I couldn't have dreamed up a better doctor. He cares about you as a person and not just a patient. The front desk ladies and nurses were very friendly and it's a great office, very clean and not intimidating. I highly recommend Cherokee Women's Health."
– Vicki
Read more testimonials: