The O-Shot and Sexual Dysfunction
Sexual dysfunction. Lack of sexual desire. The inability to become aroused or orgasm during intercourse. Painful or unpleasant sex. These are all symptoms of sexual dysfunction and if you're experiencing any of them, you're not alone. Nearly 43% of women report at least some degree of poor sexual function.
Request more O-Shot information now!
Sexual dysfunction affects women of all ages. However, it can be particularly brutal for women entering menopause thanks to hormonal imbalances. If you're simply no longer interested in sex or have trouble staying lubricated before or during intercourse, you may want to consider the O-Shot.
Aptly named, the O-Shot or 'Orgasm Shot' works to improve overall sexual health so you can take your life back. It's a simple minimally-invasive procedure that safely and effectively restores your ability to climax by improving lubrication and sensation.
Dr. Litrel shares how the O-Shot can help treat incontinence and sexual dysfunction.
How Does It Work? 
Before your O-Shot treatment, you'll undergo a simple blood draw. One of our specialists will then spin, clean, and process the blood into platelet-rich plasma (PRP) while you wait in-office.
The PRP is then injected directly into the clitoris and inside the vagina. The process stimulates the growth of new cells and encourages the formation of new collagen, blood vessels, and nerves. In turn, the injection sites become more sensitive.
A topical numbing agent is placed on the injection sites prior to your treatment to minimize discomfort. There is no downtime associated with the O-Shot and patients are free to go about their daily activities immediately following the procedure, including intercourse.
Unlike other similar procedures, the O-Shot uses your own body's natural healing process. Dermal fillers provide short-term results and are quickly absorbed and expelled from the body. Surgical methods are costly, time-consuming, and have longer recovery times.
Learn more! Download our FREE O-Shot eBook.
What To Expect
Because the O-Shot uses a biologic process, some women may experience improvement almost immediately while it can take several weeks for other women to notice results. Once the O-Shot takes effect, you should experience better sexual function for up to a year or more.
After your Orgasm Shot, you can expect improved sexual desire, better lubrication, and the ability to climax more often. Stronger, longer-lasting orgasms can also be accomplished with O-Shot injections. A series of two O-Shots are typically recommended to achieve maximum sexual benefits.
No significant side effects have been reported with the O-Shot. Some patients expressed temporary spotting, swelling, and hypersensitivity after their vaginal rejuvenation procedure. Any adverse side effects should dissipate within 1-3 days.
Am I A Good Candidate?
The ideal candidate for the O-Shot include women who are seeking a non-surgical way to improve their sexual health. With a short, in-office appointment women can achieve long-lasting results without the downtime.
You may be a good candidate if you have one or more of the following sexual concerns:
Vaginal dryness
Urinary incontinence
Lack of sexual desire
Inability to become aroused or orgasm
Pain during intercourse
Menopausal and post-menopausal women can especially benefit from the O-Shot. New collagen, blood vessels, and nerves that are formed help restore your sexual health to its previous good health.
Women who go into the procedure with realistic expectations are more likely to be happy with the results of their O-Shot procedure. During your consultation, your doctor will be able to explain the procedure in detail so you can make an informed decision about what's right for you.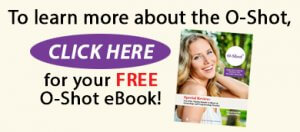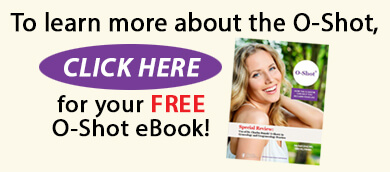 Ready to improve your sexual health with the O-Shot? Schedule a consultation with Cherokee Women's Health today to inquire about getting the O-Shot for yourself. Call us today at 770.721.6060.