Susan Fischels, APRN, CNM, IBCLC
Certified Nurse Midwife
Scroll down to see an interview with Susan.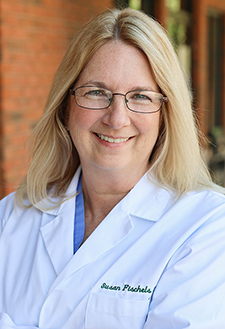 Susan Fischels is a Certified Nurse Midwife and Registered Nurse who has delivered over 1,500 babies and has 20 plus years of clinical experience. She is also a certified lactation consultant and enjoys being able to help new moms with the art of breastfeeding.
"Susan is the best and the sweetest. I'm so glad to have had her throughout my last pregnancy." 
"Susan delivered my baby and she was wonderful! I'm so thankful for her."
"Susan delivered my baby Matthew, and I was thankful she was by my side. She was a delight!"
Susan Fischels shares why she loves being a midwife.
"I enjoy taking care of women, not only at the time of delivery, but throughout their entire pregnancy and beyond. I find it especially rewarding to help moms struggling to breastfeed."

– Midwife Susan Fischels
Prior to becoming a midwife, Susan worked alongside midwives and observed how they interacted with their patients. It was through those experiences that she realized she wanted to become a midwife herself. She has practiced as a certified nurse midwife since 1998, and continues to help women throughout their pregnancy journey. She now delivers babies at Northside Hospital Cherokee.
Susan practiced in West Virginia prior to joining Cherokee Women's Health. Originally from New Jersey, she received a Master of Science in Midwifery from Philadelphia University and a Bachelor of Science in Nursing from the College of New Jersey. She also received training at the Frontier School of Midwifery and Family Nursing.
In her free time, Susan enjoys gardening, home canning, yoga, the beach and visiting the Caribbean Island. She and her husband have two children.
Educational Background
Master of Science in Midwifery – Philadelphia University, Philadelphia, PA
BSN – College of New Jersey, Ewing Township, NJ
Certifications
Internationally Board-Certified Lactation Consultant
Registered Nurse – Licensed to practice in GA, KY and WV
Languages
English