Testimonial for A MisMatch Made in Heaven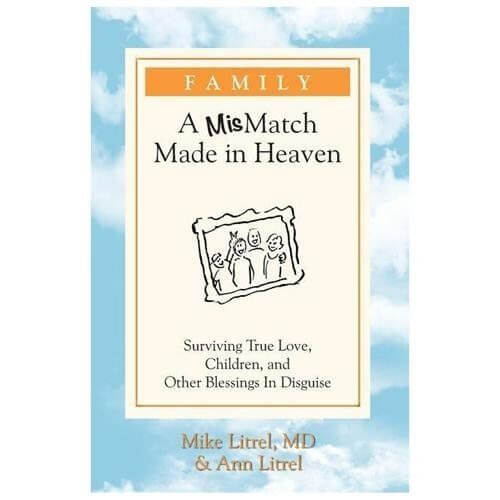 If you're a patient of Cherokee Women's Health, you have probably seen Dr. Litrel's book that he co-wrote with his wife Ann called A MisMatch Made in Heaven: Surviving True Love, Children, and Other Blessings In Disguise. The book is a "he said, she said" account of stories about family, children, faith and marriage – 25 years to be exact. Published in April of 2013, the book is Dr. Litrel's second published work, with The Eyes Don't See: What Patients Can Teach Doctors About Medicine, published back in 2004.
Originally, Ann started helping Dr. Litrel edit the book, but she quickly took on the important role of the woman's point of view.
"We already knew the subject of the second book would be family and marriage. But after looking over Michael's stories, I began to think the book would be more enlightening if it included the woman's perspective, too," said Ann.
Recently, we received a testimonial from a woman who picked up Dr. Litrel's book while accompanying her sister to an appointment at our Canton office. She reached out to us about how much she enjoyed the book and we wanted to share her kind words here on our blog this week.
Hi, Dr. Litrel;
I picked up your book at your practice about a month ago when I accompanied my sister for her annual check up. The title of your book attracted me, and then when I flipped through the pages while waiting, it seemed an interesting book with all the fun illustrations. I have to say that this is the first book I bought in a doctor's office and it is one of the best books I've ever read!
Last night I finished the whole book at 1:45am. When reading what Ann wrote on "Looking Back on 25 Years", it made me cry, especially when she said on page 264 and page 265 about "burst of sobbing that seemed to come over me all on their own…"I felt a flood of regret. In trying to be the perfect wife and mother, how many fun, message moments had I missed…"
My husband and I have two children, 8 and 4. Recently my sister confided with me that my son Ethan (8) had told her that I had too many rules and that he wished he had parents like my sister and her husband. Now my sister hasn't had any children yet now at her late 30's. Anyway, she just wants to communicate with me so I can perhaps adjust some of my ways. I know my children love my husband and me but they do not get to do with us all the fun things they do with their aunt and uncle. After all, they only visit their aunt and uncle 3 or 4 times a year (as during school semesters it is hard to drive 7 hours round trip just for one day's time together.) They always come to the door to greet me and they always find excuses for me to spend more time with them, especially before bed time.
Your book is very encouraging, for both parenting and husband-wife relationships. Your writing style is so humorous and oftentimes made me laugh like a college girl. I have to say that I haven't had time to read a book so quickly being a mom, wife and a full-time employee for a demanding job. During that weekend I was visiting with my sister in Canton, one of our friends invited us to the Braves Game (the kids and my husband went) and I only attended lunch with our friend. Due to the driving distance, I waited at the downtown Westin Hotel lobby reading your book so my husband didn't have to drive me all the way back to Canton and go back to downtown again for the Braves Game. I heard my self giggling quite a lot; fortunately I found a closed waiting area, like a cave with one entrance. I was all by myself.
It touched me to tears when I read the following on page 14;
"I walked for miles in the dark, listening to the sounds of waves crashing, looking at the starts, and wondering why I was there.
Finally I prayed.
God answered me. ….
If Ann died, I would celebrate the short time I had known her with an increased spiritual awareness of the fragility of life, dedicating myself to becoming the person that God meant me to become…"
I told my husband the story in your book when Ann was sick for a month and the illustration was so funny "still accepting hot meals". I remembered that our church brought us hot meals when I was on bed rest for 6 weeks before my 2nd baby Kathleen was born. The meals stopped on the day I gave birth. You comment made me smile as I had some sort of the same thought 🙂 The so many examples of your children are inspiring. I wonder too, how did Tyler get his teacher to call you on the cell the very next day after he is grounded.
Anyway, I could go on and on…but I am sure you don't have time to read many words from a reader. I also have to pack up for our vacation at the beach tomorrow, something we've promised the kids before school starts.
I just want to thank you and Ann for writing this book. It is fun, humble and genuine which makes it so unique and attractive. I have to confess I don't read as much. My husband, on the other hand, always have a book to read.
I'd love to meet you and your wife in the future. I have this sense that maybe our path will cross sometimes doing something meaningful. How you decided your focus as a medical doctor was a true miracle. I love the picture of you and Ann at the back of the book. You have a kind and relaxed smile and your wife's is so radiant and beautiful! – Lucie
To purchase your own copy of Family – A MisMatch Made in Heaven, you can order online or pick up a copy at your next appointment.