What is Gestational Diabetes?
Sometime between the 24th and 28th week of pregnancy, most women will come in for their glucose screening and glucose tolerance tests. These tests determine if you have gestational diabetes, a high blood sugar condition that some women get during pregnancy. If you have been diagnosed with gestational diabetes, Cherokee Women's Health sheds some light on what it means for you and your baby.
What Causes Gestational Diabetes?
Gestational diabetes occurs as a result of hormonal changes during pregnancy. Increased levels of certain hormones interfere with the body's ability to manage blood sugar. This condition is known as insulin resistance, and as the placenta grows larger during pregnancy, it produces more hormones, increasing the resistance to insulin. If a pregnant woman's pancreas is unable to produce more insulin to overcome the effects of additional hormones in the body, blood sugar levels will rise, resulting in gestational diabetes.
Treatment for Gestational Diabetes
For women who test positive for gestational diabetes, there is extra treatment and doctor's visits required, with the goal of making sure that blood glucose levels remain at a normal level. Treatment will most likely involve special care when it comes to diet and exercise, and checking your blood sugar levels daily.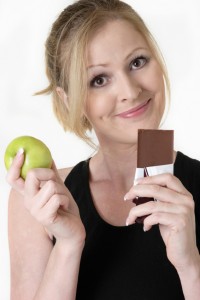 Diet – A registered dietician will be able to help you limit the amount of carbohydrates you eat to control blood sugar, as well as outline a healthy eating regimen. On average, a healthy weight gain during pregnancy is between 25 and 35 pounds, and your obstetrician or midwife will work with your dietician to recommend ways to monitor your overall weight gain.
Exercise – Aim for 2 hours a week or 30 minutes 5 times a week of moderate exercise to help your body use insulin better and help control your blood sugar level. Low-impact exercise such as walking and swimming are great options for pregnant women.
Checking blood sugar – Checking your blood sugar at home daily will help to make sure your level is within target range. Some women may require testing more than once a day, so it's important to talk to your doctor about frequency during your routine prenatal visits.
Fetal monitoring – Your doctor may want you to monitor fetal movements to let him or her know if your baby is moving regularly. You may also have more fetal ultrasounds to monitor baby's growth, or a test known as the nonstress test to check how your baby's heart responds to movement.
Insulin shots – If your blood sugar levels are still too high after making changes in diet and exercise routine, you may need insulin shots, which can lower your blood sugar without harming your baby. Or you can ask your doctor about pills such as glyburide or metformin that help regulate blood sugar.
If you're diagnosed with gestational diabetes, it's important to maintain regularly scheduled prenatal checkups. Your provider will check your blood pressure and test a sample of your urine, as well as discuss your blood sugar levels, your diet and exercise routine and how much weight you've gained. If you're due for your next prenatal visit or are concerned about gestational diabetes, don't hesitate to contact our office to schedule your next appointment.