Another "First" for Dr. Jorge Lense of Cherokee Women's Health Specialists, P.C.
PRESS RELEASE
Date: March 2011
Release Date: For Immediate Release
Contact: Ann Litrel, Cherokee Women's Health Specialists LLC
678.640.8217
annlitrel@comcast.net
Subject: "The Doctors" Hosts Local Surgeon, Unveils Hysterectomy Option
---
In March 2009, Dr. Jorge Lense of Cherokee Women's Health Specialists in Woodstock and Canton, Georgia, made surgical history when he performed Georgia's first Single Incision Laparoscopic Surgery (SILS) hysterectomy.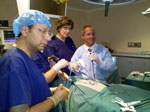 In March 2011, Dr. Lense appears on the popular medical talk show, "The Doctors," to explain how SILS is transforming the way doctors treat patients suffering from endometriosis, uterine fibroids, uterine prolapse and other serious conditions for which the recommended treatment is a hysterectomy – removal of the uterus.
Over the past two years, Dr. Lense has been instrumental in refining the SILS hysterectomy procedure, and demonstrating the technique for women's health practitioners around the world.
The technique has generated excitement in the women's healthcare community because the entire procedure takes place through a single small incision in the belly button, significantly reducing the pain and recovery time associated with traditional hysterectomies.
Introducing the SILS hysterectomy procedure on "The Doctors" will help educate the program's large audience about the new option in gynecological surgery, and providing a less traumatic surgical option for the nearly 600,000 women who receive a hysterectomy in the United States each year.
Dr. Jorge Lense, MD FACOG, practices obstetrics and gynecology in Canton, Georgia, with Cherokee Women's Health Specialists, PC. He is a graduate of the University of South Florida College of Medicine and is the recipient of many academic and leadership honors in the field of medicine, including "Best Doctors in America" 2007 – 2009.
---
Articles and information contained herein are provided for media use and general reference. You may quote or share articles, provided you do so verbatim and with attribution to our website. If you quote one of our articles on a website, please link to the article on this site. Thank you.