Giving Birth at 36 Weeks – Shelbie's Story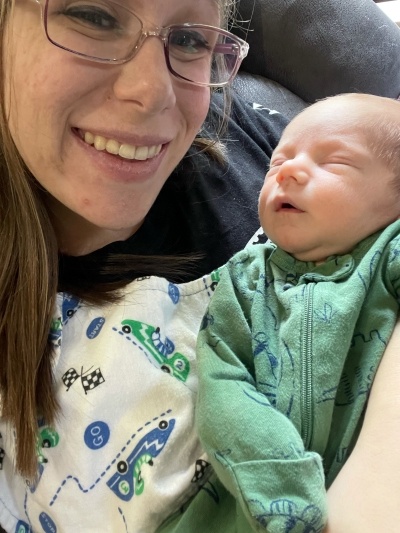 Traveling while pregnant can prove to be a difficult task but moving across the country is an even bigger challenge. Cherokee Women's Health Specialists patient Shelbie, moved from Arizona back to her hometown in Georgia halfway through her pregnancy. Her husband Tyler, is in the National Guard, and he wanted Shelbie to be surrounded by family while he was away for training. As difficult as the move was, they were confident this was the right decision for their growing family.
Shelbie's friends and family recommended Cherokee Women's Health, and fortunately, the transition from her past OB/GYN was an easy process.
"With all the transitions happening in my life, it was a huge relief to find Cherokee Women's Health Specialists. It was difficult not having my husband here, but I felt very well cared for throughout the rest of my pregnancy and delivery in Georgia."

– Shelbie
Contractions at Just 36 Weeks
Shelbie had an overall healthy and safe pregnancy, at least up until her 36-week appointment. It was then Shelbie learned that her blood pressure was elevated, and she was actually having contractions. Shelbie was shocked! She was connected to the monitor, and it was confirmed that her contractions were regular, even though Shelbie couldn't feel them. While this wasn't Shelbie's plan, she was sent to the hospital where she would soon welcome her baby boy. She shares, "I was super worried, especially since I was only 36 weeks, and everything had been fine from the beginning. My son clearly already had a mind of his own!"
Shelbie's doctor monitored her at Northside Hospital Cherokee that night, and then she met with another doctor from Cherokee Women's the next morning. With her mom by her side, they discussed her preferences and expectations of a vaginal delivery. Her doctor assured her she would do everything in her power to honor her labor preferences while keeping both her and her baby healthy.
"I was very grateful for my doctor because she was a calming influence that I needed, especially after the day before and my husband not being there. She listened to my labor expectations and I could tell she truly cared. It was a relief to have her there as my doctor before delivery."
It's a Baby Boy!
Shelbie progressed enough to start pushing, but her baby's head wasn't positioned in the best way to come out. Therefore, a vacuum extraction was used to position his head the right way. With no success, her doctor still felt confident she could deliver vaginally.
"Then, my doctor reached inside to turn his head with her hands and successfully delivered baby Luca!"
My baby came out with his umbilical cord wrapped around him, but fortunately, he was healthy. Luca was welcomed into the world on August 3, weighing 6 lbs., 10 oz.
Daddy Meets Baby Luca — Virtually
Even though Shelbie's husband couldn't be there in person for the delivery of their baby boy, he was able to Facetime through the whole delivery and meet baby Luca a short time after. Now, sweet Luca, Shelbie and Tyler are at home adjusting to their growing family, soaking up all the newborn love!
"I was really pleased with everyone at Cherokee Women's Health Specialists. My doctor is caring, calm, truly listens to your needs and is very determined to meet them."

– Shelbie on her experience with Cherokee Women's Health