Ambre's C-Section – A Positive Story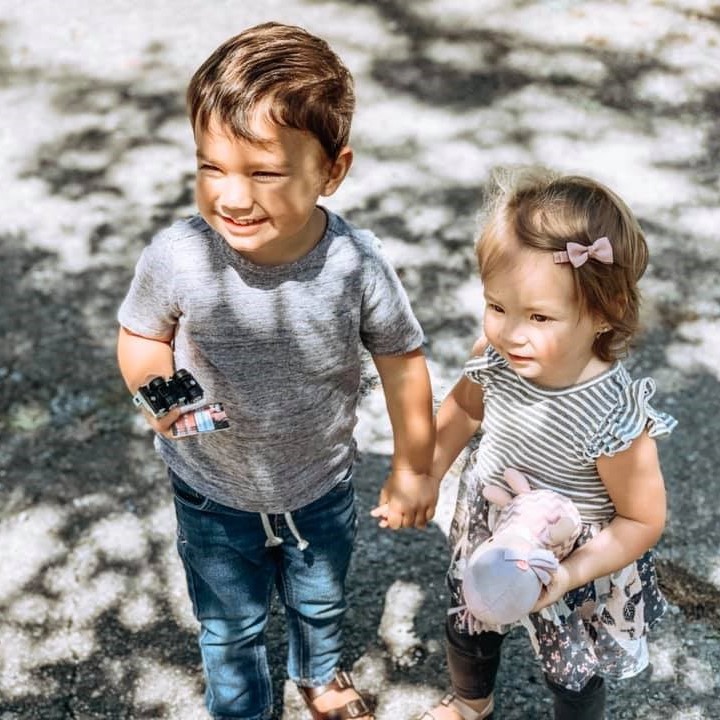 Ambre wasn't expecting to have C-sections with her two pregnancies but she knows without a doubt that they were the right decision for her and the birth of her babies. And she's so grateful that Dr. Crigler was there to help her through them. This is her story.
When Ambre and her husband moved to Georgia, they didn't know anyone. When it came time to find an OB/GYN, Ambre had no one to ask for a recommendation. As a medical professional herself, Ambre knew how important it was to find the right provider. She began an internet search, digging deep, looking at reviews on Facebook and Google, and anything else she could find. Ambre liked all she read about Cherokee Women's Health and made her choice.
1st Pregnancy
When Ambre found out she and her husband were expecting their first baby she saw Dr. Crigler. Unfortunately, he had to give her the devasting news that she was having a miscarriage.
"Dr. Crigler was so compassionate and caring and explained everything. I loved the way he also included my husband in all discussions," Ambre recalls.
A Difficult 2nd Pregnancy
Ambre's next pregnancy had many complications. She had very high blood pressure from the beginning and was so swollen she could barely walk. She was eventually placed on bed rest. Because of her high blood pressure, Dr. Crigler made the decision to induce labor. After actively pushing for four hours and due to stress on the baby, Ambre had to have a C-section. On top of that, the epidural didn't work for her and she had to have general anesthesia. It was a very emotional experience. But thankfully, Ambre delivered a healthy baby boy, whom she and her husband named Rhett.
An Easy 3rd Pregnancy, But Then…
The third pregnancy for Ambre started much better. No high blood pressure and no complications. However, because Ambre was considered an "older mom" by this point, she and her husband opted to have early genetic testing. The test came back with the likelihood that the baby girl they were expecting may have Downs Syndrome.
Ambre and her husband were surprised and obviously concerned. Dr. Crigler called Ambre one night, after hours, to address her concerns. Ambre says, "Dr. Crigler was wonderful! He went above and beyond to put my mind at ease. He is the best!"
In the end, it turned out that the test was a false positive.
Another C-Section
Two weeks before her due date, Ambre started having contractions and went into early labor. Ambre had seen all of Cherokee Women's Health's doctors during her pregnancies, and felt completely comfortable with each of them and knew that they all delivered at Northside Hospital Cherokee, but she felt a special connection to Dr. Crigler and really wanted him to deliver her baby.
Ambre says it was a "God-thing" that Dr. Crigler happened to be the on-call doctor that day. She also feels that Dr. Crigler made the right call to deliver her early, and via cesarean section again, as the baby's head was stuck.
"It was Dr. Crigler's experience and knowledge that prevented us from going through a dangerous labor again. Baby Claire arrived safe and healthy. I have never met a doctor with as much compassion, knowledge and rapport as Dr. Crigler," Ambre shares.
Ambre is quick to refer Cherokee Women's Health to everyone. She loves that all the providers and staff she has met at the practice are so caring and compassionate.
If you'd like to make an appointment at either our Woodstock and Canton location, please call 770.720.7733 or simply Request an Appointment.