Is It an Ovarian Cyst or a Fibroid?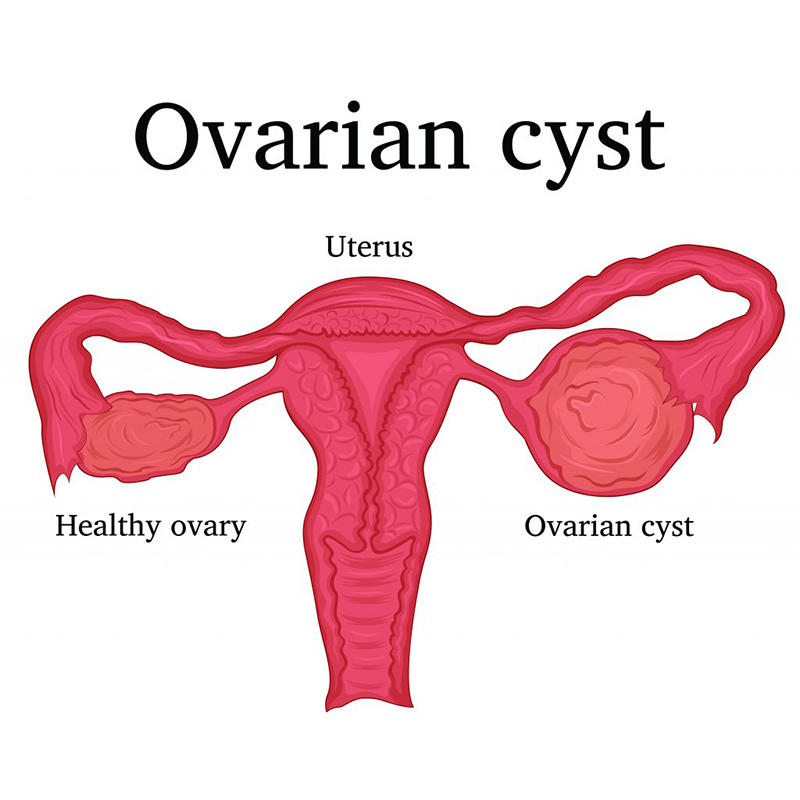 You think you may have an ovarian cyst. Or, could it be a uterine fibroid?
Ovarian cysts and fibroids have many of the same symptoms and can be difficult to self-diagnose. You may experience pelvic pain during certain activities, dull or sharp pain in your abdomen, or no symptoms at all.
Unless you're a trained professional, you probably don't know the differences between the two. In fact, many women often don't know they've got either until their OB-GYN does a routine pelvic exam.
Ovarian cysts are very common and typically go away on their own. While uterine fibroids are not an issue for some women, others experience problems such as changes in their menstrual cycle and even infertility.
In this article, we'll discuss the most obvious ways to tell which of the two you have. We'll also cover several treatment options to consider for both.
Overview: Ovarian Cysts
An ovarian cyst is a sac or pouch filled with fluid or other tissue and is caused by your menstrual cycle. As you've probably guessed it forms directly on your ovary.
Each month your body grow normal follicles (a cyst-like structure). These follicles produce hormones such as estrogen and regulate the timing of releasing an egg during ovulation. Cysts occur when a normal follicle continues to grow.
Because of this, ovarian cysts are most common for women who are at the childbearing age or going through menopause. You are also at a higher risk of getting ovarian cysts if:
You're taking fertility drugs
During pregnancy
You've had a severe pelvic infection
You've had ovarian cysts in the past
Most ovarian cysts go away on their own within 1-2 menstrual cycles.
You may experience little to no symptoms when you have an ovarian cyst. However, they can also cause dull or sharp pain in your abdomen during certain activities.
Treating an Ovarian Cyst
When your doctor diagnoses you with an ovarian cyst they will typically suggest treatment if your cyst becomes large, is causing problems such as pain, or if cancer is suspected.
There are two types of treatments for ovarian cysts.
Watchful Waiting. This is a process of monitoring your cyst for changes in size or appearance through scheduled ultrasounds.
Minimal Invasive Surgery. Typically, your OB-GYN won't suggest surgery unless the cyst continues to grow or doesn't go away on its own.
Overview: Uterine Fibroids
A uterine fibroid is a growth from muscle tissue. Fibroids can appear as single growths or clusters. They vary in size, shape, and location. Some grow rapidly, while others take years to form.
Unlike ovarian cysts, fibroids can form anywhere throughout the uterus. Fibroids can be found within the uterine walls, on the outer surface, or even attached to the stem-like structure.
Doctors still aren't exactly sure what the cause of uterine fibroids is. However, research has led to several factors being involved such as genetic changes and hormonal changes.
Women of childbearing age are most affected by uterine fibroids. Often, fibroids will decrease in size after menopause due to reduced hormone production.
Although most women have had at least one uterine fibroid throughout their life, many aren't aware because often symptoms don't occur. Other women aren't as lucky. Fibroids can have numerous adverse health effects including:
Abdominal pain or cramps
Difficult or frequent urination
Bleeding between periods
Pelvic Pain
Infertility
You may experience one, all, or none of the above symptoms if you have a uterine fibroid. It's important to have regular visits to your doctor including routine pelvic exams.
Treatment for Uterine Fibroids
Your healthcare provider will suggest seeking treatment for your fibroid if you're noticing symptoms. Rarely are uterine fibroids found to be cancerous.
There are a few treatment options available to you. Talk to your doctor about which of the following is the best approach.
Drug Therapy. Often your doctor will suggest birth control pills or other hormone altering drugs.
Myomectomy. This is the surgical removal of the fibroid. During this procedure, your uterus is left in place.
More abrasive approaches include:
Hysteroscopy. This is an outpatient procedure that destroys fibroids within the uterine walls through electricity or a laser.
Endometrial Ablation. This procedure is intended to destroy the lining of the uterus and in turn, the fibroids.
Hysterectomy. This is the surgical removal of the uterus. Sometimes doctors will leave ovaries in place for hormonal reasons. Speak to your doctor about this possibility.
Final Thoughts
Women experiencing pain or other symptoms from either ovarian cysts or uterine fibroids should seek medical advice. Once you get an official diagnosis, your healthcare provider can help you decide on a plan for treatment.
Still have questions? Don't hesitate to contact us with questions regarding your symptoms or to schedule an appointment. A member of our trained staff will be happy to help you in any way possible.