Safer Must-Have Products for Summer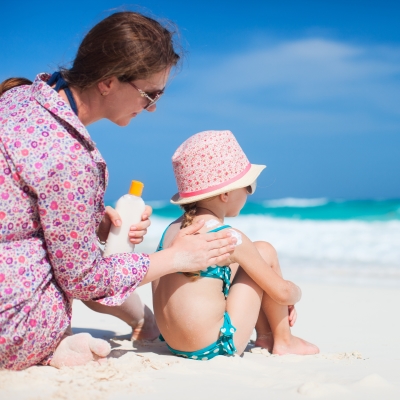 Choosing safer sunscreens, bug repellents and hydration products can be a daunting task with aisle after isle of options.  Of course, you want your friends and family to enjoy the great outdoors this summer, but worrying about sun exposure, bug bites, and possible mosquito and tick spread diseases can put a damper on the day faster than a black cloud.
Many products on the shelves these days are chemical ridden and loaded with synthetic ingredients that can be harmful to your body.
Let's take a look at a few key ingredients to avoid when shopping for summer necessities such as sunscreen, bug repellent, and hydration products. Opt for a few of the safer environmentally-friendly alternatives on our list for a worry-free day of fun in the sun.
Sunscreen
Sunscreens are designed to protect your family from harmful radiation from the sun's UV rays. However, not all sunscreens are created equal, so we've created this list of what to avoid and what to seek out when keeping your family protected this summer.
Ingredients to Avoid in Sunscreen
Most sunscreens use the help of synthetic ingredients that are designed to absorb into your skin and block UV rays. However, occasionally these chemicals can lead to adverse reactions ranging from minor skin irritation to tumors.
When shopping for sunscreens, try to avoid anything that has the following chemicals.
Vitamin A (Retinyl palmitate/ retinol). Vitamin A can be helpful when ingested, however, when applied to the skin, it has been known to produce tumors and lesions sooner than products without.
Oxybenzone. You'll find this ingredient in many sunscreens on the market. This chemical helps other active ingredients penetrate the skin and can disrupt the hormone system.
Octinoxate. This chemical can produce free radicals that can damage the skin.
Sunscreens with bug repellents should also be avoided. Instead, use separate products and apply bug repellent beforehand.
Sprays should be avoided whenever possible. They may seem like a good idea for easy application but they can release harmful-to-breathe chemicals in the air.
Family Friendly Ingredients in Sunscreen
When sourcing sunscreen for your entire family, there are several things you should take into consideration before you buy.
Typically, SPF 15 is recommended for families that plan to spend a good amount of time in the sun. If you or your loved one has especially fair skin, you might want to think about SPF 30 or higher.
UVA protection is also important when it comes to sunscreen. Unfortunately, sunscreens don't label their bottles based on UVA protection. Instead, you'll have to take a look at the active ingredients list. Look for one or more of the following active ingredients to determine if your sunscreen will give you adequate UVA protection.
Zinc oxide
3% Avobenzone
Mexoryl SX
Ecamsule
Keep in mind, choosing the correct sunscreen is only half the battle. Using it correctly is also vital for protecting your skin. Re-apply sunscreen often, especially if you've been in the water longer than 20-30 minutes.
Bug Repellent
Bug repellent has become a summer necessity, especially with all the mosquito and tick diseases floating around. Choosing to protect your family from itchy bug bites may seem like an easy decision, but before you go out and spray down, you should learn about what you're putting on your skin.
Ingredients to Avoid in Bug Repellent
Always remember that bug repellents are harmful chemicals and should be used with caution. Spray repellents on clothing rather than directly on the skin when possible.
Keep bug sprays and chemicals out of reach of young children.
Avoid using outdoor 'foggers,' candles, or aerosol sprays that can release chemicals into the air. These chemicals often get the job done, however, they can be harmful to you and your family to breathe in, as well as for the environment.
While DEET is an effective bug repellent, anything over 30% is considered excess unless in extreme circumstances.
Safe and Effective Ingredients in Bug Repellents
Instead of looking for a name brand bug repellent, there are certain active ingredients you should be aware of. Take a look at some of the safe and effective ingredients below and experiment to find your favorite.
Picaridin
IR3535
DEET (30% or below preferred)
Oil of Eucalyptus (Or Synthetic version PMD)
Each of the above ingredients has been shown to be effective at keeping bugs at bay while remaining safe for your family.
Hydration Products
Everyone knows the importance of staying hydrated throughout the hot summer months. Many people don't realize just how much sun they're getting or how much water they lose through sweat which can make the risk of dehydration all the more dangerous. However, there are right and wrong ways to beat the heat.
Ingredients to Avoid in Hydration Products
The first thing many people go to when quenching their thirst on a hot summer day is a sports drink. The common misconception is how healthy sports drinks are. The truth is, they are often loaded with sugars, high fructose corn syrup, and artificial dyes.
While electrolytes are great for replenishing water after a long day of sweating and expending energy, the majority of people don't workout hard enough to need electrolytes replenished. Instead, you wind up consuming an overabundance of sodium.
If you're going to use a sports drink to re-hydrate, be aware of what you and your family are consuming. Read the labels and choose accordingly.
Alternatives to Hydration Products
The best alternative to sports drinks and sugary sodas is plain water. However, if water doesn't get you excited, you can supplement yourself in other ways.
Fruits and vegetables are an excellent source for hydration for adults and children alike. Try some of the following fruits and veggies that have high water content for a happy, healthy summer.
Coconut Water
Oranges
Mango
Celery
Cucumber
Carrots
Final Thoughts
Many summer products you'll find can contain harmful ingredients to either your family or the environment. We hope with the help of this guide you'll be able to make healthier decisions about the products you choose for your family this summer.
With a little research, sourcing sunscreen, bug repellent, and hydration products that will suit your family's needs should be relatively easy. If you'd like to learn more about healthier options for your loved ones, feel free to give us a call.
Our friendly staff is always happy to answer any questions you may have or schedule an appointment to discuss your summer health goals.