Fetal Kick Count Instructions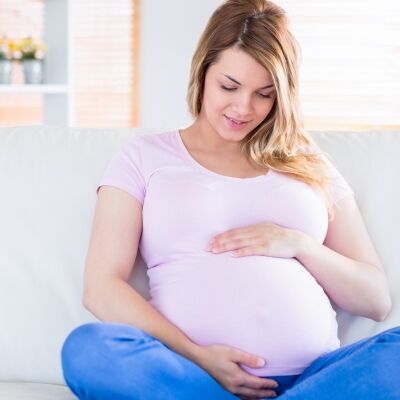 It's important for expectant mothers to keep track of their baby's movements. Not only will it give you reassurance that your baby is healthy, but a lack of movement can be the first sign that something is seriously wrong. In fact, monitoring your baby's fetal kick count has the potential to save your baby's life.
Monitoring High-Risk Pregnancy with Fetal Kick Counts
Dr. Litrel discusses high-risk pregnancy and tracking a baby's health progress with fetal kick counts.
When Should You Start Counting Fetal Movements
Counting fetal movements is easy to do, and can be a relaxing time spent bonding with your little one.
Some women can feel their baby's first kicks anywhere from 16-25 weeks. However, the average for first-time mothers is between the 20-22 week range.
Your doctor will likely suggest beginning to track your baby's fetal kick counts starting during the third trimester (week 26-27) onward.
Monitoring fetal kick counts are especially important for expectant mothers who have health conditions. If you have diabetes or high blood pressure, for example, your doctor will recommend closely keeping track of your baby's movements.
How to Track and Count Fetal Kicks
Tracking your baby's movements is somewhat easy. Following a few simple steps is an easy way to reassure yourself that your baby is okay.
Most babies move at least 10 times within any given 1 hour period.
When checking your baby's fetal kick count, you'll need the following tools:
A comfortable place to sit or lay
A journal
A timing device
Start by sitting or laying on your side. Begin your timer and count each movement that your baby makes. These movements could include anything from:
Once you've gotten to 5 of these movements, stop counting and record the length of time it took from the first to the last.
More Tips
Here are a few additional tips you may want to follow to help you when you are tracking the fetal movement of your little one:
Try to count movements at the same time every day.
Try evening or after dinnertime. Some babies are more likely to be more active during this time.
Write down times in a daily journal for easy tracking. Your doctor may request to see your times during checkups as well.
If you choose to lie down while counting, try to lay on your left side. Circulation will be better for the baby.
Stop timing after 5 moves.
When To Call Your Doctor
Babies that do not move at least 5 times within thirty minutes should be checked by your doctor. Movement is an important barometer of your baby's health.
Sudden increase or decrease in baby's fetal kick count in the third trimester should also be reported to your doctor, especially if you have health concerns that put you at a high-risk pregnancy.
If your baby doesn't move within the half hour, don't panic. Your baby could simply be sleeping. Instead, get up and move around for a few minutes. Grab a bite to eat or drink. After half hour, if your baby still doesn't seem to be moving, call your doctor immediately. Letting your doctor know that your baby is not moving enough can save their life.
Other Indicators That Require a Call to Your Doctor
Rupture of membranes (Water breaking)
Contractions every 2-5 minutes (more than 5 per hour)
Cramps in the lower abdomen with or without diarrhea
Temperature over 100 degrees
Vaginal spotting or bleeding
Final Thoughts on Fetal Kick Counts
Monitoring your little one's fetal kicks can potentially save your baby's life. If you've got questions or concerns regarding your baby's movements or would like to schedule an appointment to discuss these techniques with your doctor, call us at 770.720.7333. Or, simply request an appointment online.