First Gynecology Appointment for Teens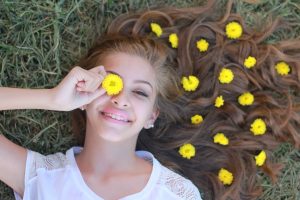 Visiting the gynecologist is an important part of the aging process for young women. Your doctor will give you vital information on how to stay as healthy as possible as well as giving you an overall checkup.
There are three main reasons that parents should take their young girls to a gynecologist.
Information: During your visit, you'll learn about your body and how to maintain a healthy lifestyle whether you're sexually active or not.
Prevention: Your doctor will look for signs of underlying issues that could affect you later in life.
Treatment: If you're experiencing problems with your menstrual cycle, pain, or reproductive problems, your OB/GYN can look into why the problem is occurring and find a treatment.
A gynecology appointment can be nerve-racking for young girls who don't know exactly what to expect. Being nervous is completely normal. However, once your exam is over, you'll likely be wondering what all the fuss was about.
When Should You Schedule Your First Appointment?
Typically, a first appointment is recommended by OB/GYNs for girls between the ages of 13 and 15. This gives the doctor plenty of time to answer questions regarding sexual health, menstruation, and other concerns confidentially. (For young girls under the age of 17, we need a referral from a pediatrician.)
What to Expect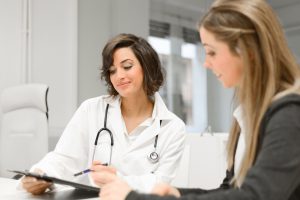 At the beginning of your first gynecology exam, your doctor will sit down with you and just talk. It's important to be open and honest when speaking to your OB/GYN so that they can give you the best medical care possible.
They will ask you questions regarding your health. Among others, some items you can expect to be brought up include:
Your menstrual cycle
Sexual activity (Including oral, vaginal, and anal sex)
Acne
Weight
Sexuality
Birth control
STIs (Sexually transmitted infections)
Emotional ups and downs
If you're concerned about confidentiality, ask your doctor beforehand. In most cases, everything you disclose can be kept between you and your doctor.
Your first gynecology appointment will consist primarily of two exams. Both are important to your overall health.
Unless your OB/GYN feels it is vital, a pelvic exam will not be part of your first gynecology exam. Generally, pelvic exams are recommended starting at the age of 21.
Remember, if you feel uncomfortable during any portion of your gynecological visit, you can ask for a nurse or family member to be present as well.
General Physical Exam
During the general physical portion of your visit, your OB/GYN will give you a routine checkup-similar to what any doctor would. This part of the exam is designed to catch any general health problems that can easily be corrected. Doing so, some of the things your doctor will record include:
height
weight
blood pressure
The general physical exam is usually performed before the external genital exam. It allows the patient to become more comfortable with the doctor so they can be prepared for the next portion.
External Genital Exam
Although many young women stress about this part of the exam, it usually only lasts a few minutes. Not only does this part your first gynecology appointment let your doctor know how you're physically doing, but it gives you much-needed knowledge about your own body.
Your OB/GYN will examine your vulva to ensure your overall health is in order. They may offer you a mirror so you can see it as well. You'll learn the names of different parts of your body and where they are located.
Again, if you don't feel comfortable doing this portion of the exam alone, you're free to ask for a nurse or family member to be present.
Vaccinations You May Receive
Your doctor may ask you (or your parents) if you've been vaccinated or immunized to protect against certain diseases.
The following vaccinations are given on a routine basis to young women ranging in age from 11-18 and may be administered during your gynecologic exam.
Tetanus–diphtheria–pertussis (Tdap) booster
Human papillomavirus vaccine
Meningococcal vaccine
Influenza vaccine (yearly)
In addition to routine vaccines, special vaccines may be given to young women who are at an increased risk for certain diseases. These include:
Hepatitis A virus vaccine
Pneumococcal vaccine
What to Talk About During Your Appointment
Remember that your appointment gives you a safe place to talk about anything and everything regarding both your physical and emotional state. Use this opportunity to speak confidentially to your OB/GYN for accurate answers.
Before going to your appointment, think of a list of questions you'd like to ask. Your doctor has heard it all, so if something is concerning you, don't let your embarrassment or nervousness get in the way of your well-being.
Final Thoughts
Parents and young women should go into appointments with as much knowledge as possible. Your first gynecology appointment doesn't have to be scary if you know what to expect.
The thought of a gynecologic exam can seem weird or uncomfortable at first but it's a normal part of taking care of yourself as a woman.
Call to schedule an appointment with an OB/GYN today and one of our helpful staff members will be happy to assist you. Feel free to ask any questions regarding your first visitation beforehand so you can be as prepared as possible.