G-Spot
December 6th, 2016 by Diane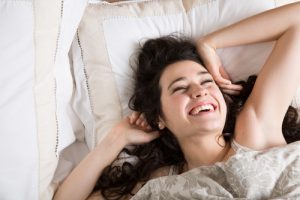 For many women, the genital area and its many complicated parts still remain a mystery, often depriving them of the many delightful sensations they are capable of enjoying.
Our specialists at Cherokee Women's Health are aware of the possible inhibitions you may have when it comes to asking what you might consider embarrassing questions. Simply admitting to exploring your own body may seem like a taboo subject, but to us, it's a very natural and healthy practice, so we welcome any questions you may have regarding erogenous areas of your body such as the G-Spot.
What is the G-Spot and Where is It?
The G-Spot, or Gräfenberg spot, is an internal area located inside the entrance of a woman's vagina. Named for a German gynecologist, Ernst Gräfenberg, who also invented the intrauterine device (IUD), the G-Spot is believed to be an extremely sensitive nerve bundle that, when aroused, can result in a profound, thrilling orgasm, sometimes culminating in female ejaculation.
Although the G-Spot varies slightly in location from one woman to the next, it is usually situated 2 to 3 inches upwards on the front wall inside the vagina. Some theorize that it is part of the prostate, while others believe it to be an extension of the clitoris, which extends up to four inches into the vagina.
Does Every Woman Have a G-Spot?
There is some controversy on the subject. Some sexologists and doctors say no, while others say with absolute certainly that, yes, it is present in all woman. If you've ever achieved G-Spot orgasm, you know it exists. It is likely that the reason for any doubt may be because of the G-Spot's location in your body, which varies a little from woman to woman, making it tricky to pinpoint sometimes. As well, it cannot always be accessed and stimulated with normal penile penetration in the traditional missionary position. Rear entry vaginal penetration, or the woman on top, ('cowgirl') position are two examples you may wish to try. Sometimes, it just requires a little imagination, practice, and/or the introduction of oral, manual or artificial methods to achieve G-Spot gratification.

You Mentioned Female Ejaculation. Isn't That Something Only Men Do?
No, some women are capable of ejaculating fluid during a G-Spot climax, and there is nothing harmful or unusual about it. It's not known for certain if this happens because the G-Spot is an extension of the clitoris, which becomes engorged during sexual activity, or if the fluid is expelled by the woman's prostatic-like glands that are situated in the urethral sponge, a part of the inner clitoral structure.
Am I Abnormal if I've Never Experienced This?
Absolutely not! It is still difficult for many women to achieve orgasm, whether it be through clitoral, vaginal or G-Spot stimulation. There are many factors that can prevent a woman from enjoying full and satisfying intimacy, and these can be both psychological and/or physical. It's our job to determine which might be preventing you from doing so, and to help you in any way we can. If a pelvic examination shows no abnormalities, then some of the following reasons may be preventing you from enjoying the full, stirring benefits of G-Spot orgasm
Inhibitions such as nervousness or sexual taboo beliefs:
Insufficient lubrication
Improper positioning
Minimal or no foreplay
Rough manipulation
Lack of pressure during stimulation
Lack of candid verbal or manual guidance between partners.
Is There Anything Else You Can Do to Help Me Experience G-Spot Pleasure Regularly?
Yes, we can. If we find there are no physical or psychological reasons preventing you from achieving G-Spot satisfaction, a procedure called G-Spot amplification (also known as G-Shot or GSA) enhances sexual arousal and gratification.
Our experts are fully qualified to administer this quick, safe, and painless procedure which injects a harmless filler that allows the G-Spot to extend lower into the vagina, making it more accessible and easier to stimulate. The effects have proven to be highly successful, and can last anywhere from three to five months, allowing women to enjoy the delightful benefits and gratification of G-Spot orgasms.
Sexual pleasure is a personal experience with individual preferences. What impassions one woman may not necessarily excite another, and that includes attaining climax through G-Spot stimulation. We are always here to help you and to discuss your concerns regarding intimacy and other feminine health issues that you may be dealing with.
If you have any questions about your sexual health, call us today for an appointment at 770.720.7733.
Request a Consultation
Recent Posts
Categories
Testimonials
"Dr. Litrel was a fantastic doctor. I had my first exam with him, although at first I was skeptical about a male doctor for my GYN. But after I met him I'm glad I kept an open mind, and I couldn't have dreamed up a better doctor. He cares about you as a person and not just a patient. The front desk ladies and nurses were very friendly and it's a great office, very clean and not intimidating. I highly recommend Cherokee Women's Health."
– Vicki
Read more testimonials: