Exploring Your Birth Control Options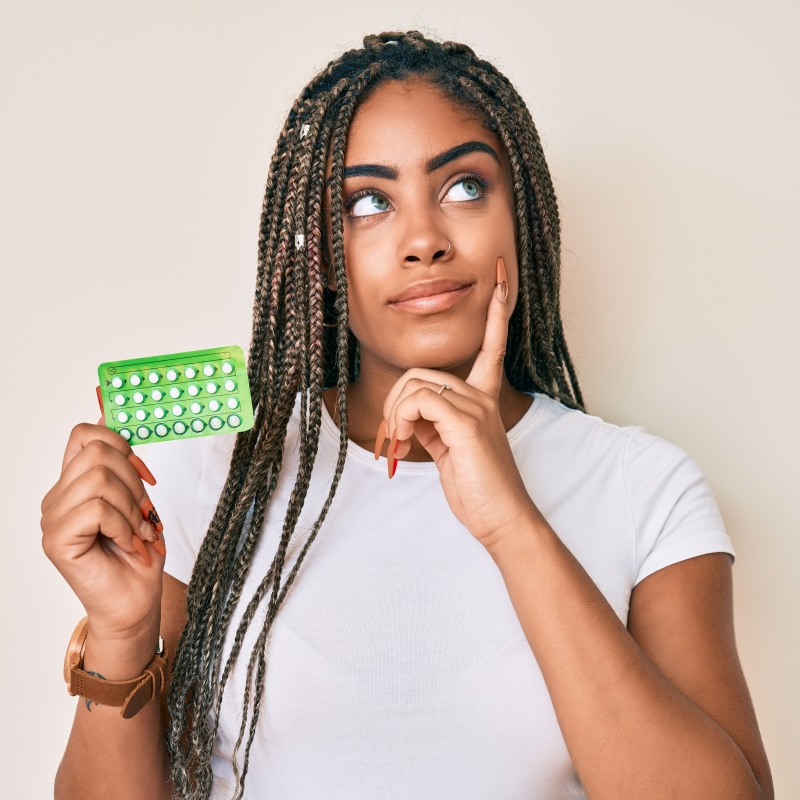 The responsibility of family planning has never been easier with all of the options available to meet a patient's health and lifestyle needs. While the choices may seem overwhelming, our OB/GYNs can help to find the right contraception method to meet each patient's needs.
Below are some things to consider before scheduling an appointment with a care provider:
Disclose Complete Health History – It is especially important to be honest and thorough when disclosing health history because of any risks associated with contraception methods. This is a critical step in finding a birth control that will work for any health conditions a patient may have. Furthermore, there are certain birth control types that are contraindicated for those with genetic conditions or predispositions such as breast, uterine, or ovarian cancers.
Ask about options – It is best to make an informed decision about birth control, so start by asking what types are available. Choices range from pills, implants, and injections to more permanent options such as sterilization for women or men. While considering all of the options, it is important to plan for the future. For patients looking for long-term or permanent birth control, it is advantageous to ask about the reversibility of the method. Plans change, and patients should know if their birth control can be easily reversed.
Inquire about the Efficacy of Birth Control – Different methods hold different rates of effectiveness and a doctor can help compare methods that will work best for each patient's needs. Find out what types of back-up or emergency birth control can be used to bolster effectiveness, prevent failure, and protect against sexually transmitted diseases. Additionally, ask if any supplements or antibiotics will interfere with the effectiveness of birth control and if there are back-up birth control options that should be used.
Evaluate the Cost – Some birth controls will cost more out-of-pocket than other types. Doctors can assist in finding a solution that fits into the budget. Contacting insurance is another suggestion to see what options are covered under a patient's health plan.
Compare the Side Effects and Benefits – Ask for a run-down on the types of side effects that can occur on birth control. Some patients may want to adjust their method based on their level of comfort with the side effects they experience. A doctor can answer any questions about switching methods or reducing symptoms or side effects.
Lifestyle Considerations – Depending on a patient's lifestyle and individual menstrual cycle, there are contraceptive methods that may be the most optimal choice. For patients who travel often, they may find that they need a method that does not require weekly updating, or monthly prescription renewals. Those with irregular periods may want to consider something that regulates their cycle, such as birth control pills. Doctors can help pinpoint a method that accommodates lifestyle needs.
Birth Control is More than Protection
Proven benefits of taking contraceptives include regulating periods, reducing heavy bleeding, and clearing up skin conditions such as acne. Endometriosis is another condition that can be helped with the right birth control method, eliminating pain associated with the disorder. Women suffering from PMS, or PMDD should ask their doctor about a birth control method that can also help eliminate or lessen these irritable symptoms. Mention any symptoms experienced prior or during a menstrual cycle such as:
Mood changes, anxiety and depression
Severe pain
Sleepiness or insomnia
Social dysfunction
Weight gain and water retention
We Can Help
Birth control is not a one-size-fits-all method. If a particular type of birth control does not meet a patient's needs, they should discuss any issues with their doctor and find other suitable options. Cherokee Women's Health want to help take the guess work out of choosing a birth control. The first step in finding a contraception method is making an appointment with one of our OB/GYNs today. Call us at 770.720.7733 or request an appointment online.