Pelvic Organ Prolapse and Pregnancy – Steps To Take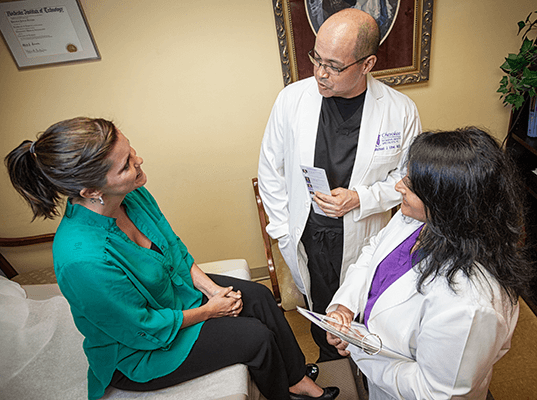 When you're diagnosed with pelvic organ prolapse, you're faced with a challenging and emotionally painful question: Should I continue adding children to my family? Whether you've always wanted a big family, or just two children, you know that your health is in a precarious and delicate state. You're afraid of worsening your prolapse, but even more afraid that you will regret not choosing to become pregnant again.
Talking with a urogynecologist who specializes in Female Pelvic Medicine and Reconstructive Surgery may help to make this decision easier for you to make. Since there are surgical and non-surgical treatment options for any stage of prolapse, your doctor can offer insight that may alleviate your fears and concerns. Once you've settled on an additional pregnancy, it is important to take care of yourself physically in order to optimize a birth and post-partum period that will accommodate your body and your prolapse. Pelvic organ prolapse doesn't have to rule your decisions. Don't let your limitations hold you back from living the life you want.
During and After Pregnancy Prolapse Care
Pelvic Floor Physical Therapy – The exercises and touch therapy included in PT can help to keep your symptoms to a minimum throughout your pregnancy. Ask your urogynecologist or OB/GYN for a referral to a physical therapist who specializes in women's health. After you deliver, check with your urogynecologist and OB/GYN to be cleared to begin the healing process of post-partum physical therapy.
Prenatal and Post-Partum Support – When worn correctly, a maternity belt can ease pressure on the pelvic floor and lower back, allowing you to move easier and prevent straining. Different from a waist-trainer or girdle, effective post-partum support can be therapeutic for a healing pelvic floor. Run these products by your doctor to see if they will work for you and your limitations.
Conscientious Movement – Remember that you are growing a baby, as well as nursing your prolapse. Move with purpose, and don't push yourself to the point of pain. Lifting should be kept to a minimum, as well as bending over. When you do have to make larger movements, engage your transverse abdominus and kegel muscles. Keeping theses muscles strong will help support your pelvic floor, and help prevent any stress urinary incontinence. When recovering from birth, give yourself time to heal. Move slowly, and deliberately, and "baby" your pelvic floor. Ask your doctor how soon you can resume any pelvic floor exercises, and start slowly, working yourself up to your pre-pregnancy status. Simple life adjustments can have a big impact on a successful pregnancy and post-partum period.
Cherokee Women's Health Can Help
Our board-certified physicians are female pelvic health experts and can help. Call us today at 770.720.7733 or request an appointment online.