Alcohol Consumption During Pregnancy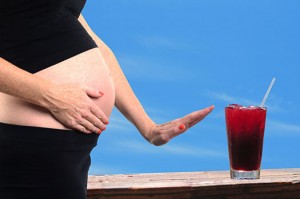 The Centers for Disease Control made headlines this week when they announced that sexually active women of childbearing age should never drink alcohol unless they're on birth control. The recommendation met with both support and backlash: many women agree that it's not worth the risk, while others argue that telling 3.3 million women not to drink isn't feasible. What do you think?
Are You Expecting?
You probably know that consuming alcohol during pregnancy can negatively impact a baby's mental, physical, and behavioral development. What you may not know is whether or not you're expecting. Some moms-to-be take 4 to 6 weeks to realize they're pregnant. And as many moms of lovable broods know, about half the pregnancies in the United States are unplanned. Even women actively trying to get pregnant might continue drinking. According to the CDC, only 1 in 4 women stops drinking alcohol when they go off birth control. Exposure to even minimal alcohol during pregnancy may affect the baby's health. So is the risk worth it?
The Effect of Alcohol on Developing Babies
Whether you're happily expecting or simply trying, we know your baby's health is your #1 consideration. But you may not realize just how much damage drinking during pregnancy can cause. Even small amounts of alcohol can cause:
Miscarriage
Stillbirth
Prematurity
Fetal Alcohol Spectrum Disorders (FASDs)
Sudden Infant Death Syndrome (SIDS)
FASDs can affect a child's development both before and after birth. Symptoms can include anything from abnormal facial features and underdeveloped growth to poor memory, attention or hyperactivity disorders, learning disabilities, speech and language problems, and low IQ. Many people suffering from FASDs also have impaired hearing or vision and problems with their hearts, kidneys, or bones.
Make the Healthy Choice
At Cherokee Women's Health, we advocate for the health of mothers and their babies. According to the CDC recommendation, all expectant mothers should refrain from drinking alcohol during pregnancy. If you're trying to get pregnant, we recommend that you stop drinking alcohol until you go back on birth control. If you discover you're pregnant unexpectedly, stop drinking immediately.
Cherokee Women's Health has an experienced team of obstetricians, dedicated nurse-midwives, and board certified FPMRS surgeons on staff. We specialize in normal and high risk pregnancies, with expert care physicians and advanced practice providers trained in both natural and standard births. To learn more about how to ensure a healthy pregnancy, call today or request an appointment online.