Exercising During Pregnancy Leads to Healthier Moms and Babies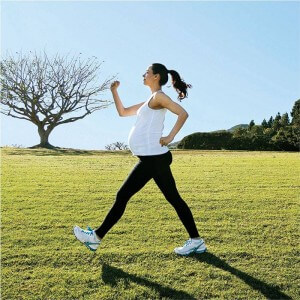 During your pregnancy, you are no doubt taking every step to keep yourself and your baby as healthy as possible: you are abiding by the foods-not-to-eat list; you are not drinking any alcohol; you are limiting your caffeine; and you are making sure you are drinking plenty of water. So, what about being active? While this is not the time to start training for your first marathon, exercise during pregnancy leads to healthier moms and babies.
The Benefits of Exercising During Pregnancy
Exercise has already been proven to reduce the risk of gestational diabetes as well as improve the endurance of the mother, resulting in an easier delivery. Not to mention, you more likely to get back to your pre-baby weight faster than if you were not active. While we know that pregnancy fitness is beneficial for the mom, new studies indicate that maintaining a regular fitness regime during pregnancy will actually lead to a healthier baby, too.
Studies show that women who exercised regularly during the second half of their pregnancy were more likely to give birth to babies with a lower birth weight. While a lower birth weight might not seem preferable, it actually is healthier since a too high weight is an indicator of childhood obesity.
How to Exercise Safely During Pregnancy
Now that you know the many benefits to staying active during your pregnancy, you need to make sure you are not doing anything too strenuous that could result in injury. So, here are a few guidelines to safely exercising during your pregnancy:
Consult your doctor – It's a great idea to discuss your fitness regime with your obstetrician and get his/her approval first. While it is healthy to continue exercising, your body is different now and some activities may not be conducive to your pregnant state.
Don't Overdo It – This is not the time to try for a personal record in the upcoming 5K or to push yourself to tackle a new goal. You are growing a human being, and that takes a lot of effort. As a result, your body may need more recovery time in between workouts and you may need to reduce the intensity of your workouts – like switch to power walking or swimming instead of running.
Be Aware of Your Pregnant Limitations – Your growing belly comes with a few restrictions in regards to activity, like avoiding any exercises that require you to lie on your back. Also, your balance is not what it used to be, any activities that pose a high risk of falling, like rock-climbing and water skiing, are off-limits, too.
Cherokee Women's Health encourages you to remain active during their pregnancy, as long as you get the go-ahead from your obstetrician. Don't hesitate to contact our office with any questions you may have about exercising or pregnancy in general.