Best Holiday Gifts for Expectant Moms
When it comes to holiday gift-giving, are you a pro, or could you use a little help? If you have a pregnant woman on your holiday gift list, you might find yourself wondering, "What can I surprise her with that she will truly enjoy? Look no further – Cherokee Women's Health has compiled a list of of a few gift ideas that will warm any mom-to-be's heart.
A comfy scarf – During the colder months, a warm scarf can help shield mama and baby when the growing tummy doesn't allow for much coverage in a coat. Opt for a longer version that she can layer and wrap around as needed.
Spa services – Most pregnant women will melt at the idea of getting a massage. During pregnancy, muscles and bones are stretching and moving, and a massage is a great way to ease some of that all-too-common pain and pressure that carrying a little one puts on the body. Another indulgent option? A facial. Skin problems during pregnancy are also common, and while there are many skincare lines available for pregnant women, nothing beats getting professionally pampered. (And if you're on a budget, a coupon for an at-home massage can't be beat. Truly.)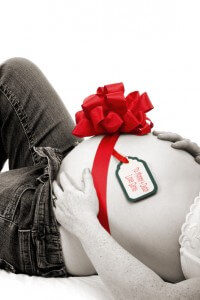 A handmade gift basket – Nothing says personalized like a gift basket with her favorite chocolate or other sweet treats, some cozy socks, a picture frame to put a photo of her new bundle in, or some at-home indulgences like lotions or creams.
A locket – A locket with her latest ultrasound photo is sure to make her sentimental. Once the new baby arrives, she can switch the photo out, and even switch the photos as your baby grows.
The gift of sleep – Tossing and turning due to to insomnia and the inability to get comfortable as your body grows is a pain most pregnant women know. Give her the gift of sleep with a full-size body pillow that will conform to the shape of her body. There are many types available that help prevent sciatica and lower back pain, create a cradle for the growing tummy, and solve other pregnancy sleep problems. She'll say "Thanks and goodnight," guaranteed.
A Clean House – For most women, the idea of a clean house that they didn't have to clean themselves is heavenly. No woman in her third trimester (or one with a newborn) is going to excited about cleaning the toilet. Give her the gift a clean house with a gift certificate to a local cleaning service.
A Gift for Him (but really for her) – A (humorous) book on how to properly treat your pregnant wife. One of our favorite tips from inside: Don t say, Man, I wish I could just get comfortable.
For the team at Cherokee Women's Health, our goal is to provide happy, healthy pregnancies for all our pregnant patients this year. While this list of gift ideas isn't exhaustive, it might help you brainstorm other ideas for the mom-to-be in your life. What other gifts would you include on this list?