Health and Relationships
December 4th, 2013 by Diane
There's an increasing amount of research from medical institutions being devoted to demonstrating the connection between relationships and health. Oftentimes, a breakdown in physical health is a manifestation of an emotional or spiritual problem. Given that, it's no surprise that women who have strong social connections are shown to be happier, have fewer health problems and live longer. Activities such as spending time with family and friends and participating in community and workplace activities are not only pleasurable but they also influence our health. In contrast, having few social ties is associated with depression, cognitive decline, and premature death.
It also turns out that caring for others triggers the release of stress-reducing hormones which can help relieve harmful levels of stress. Stress in the body can harm the heart's arteries, gut function, insulin regulation, and the immune system so the more you care for others, the healthier you may be. And it's quality and quantity that matter. In one study of midlife women, those who were in highly satisfying marriages had a lower risk for cardiovascular disease than those in less satisfying marriages. Other studies have linked negative interactions with family and friends with poorer health.
It's easy to lose track of our deeper purpose of sharing and caring but it's never too late to foster your most meaningful relationships. Choose to do things that bring joy to you and those you care about.
OB/GYN surgeon and author Dr. Mike Litrel of Cherokee Women's Health, is a strong believer in the importance of the health/relationship connection. He's authored the book The Eyes Don't See regarding the faith/health connection and most recently, co-authored Family – A Mismatch Made in Heaven, with his wife Ann Litrel. In it they discuss the importance of love, laughter and compromise in keeping a relationship strong.
Family – A Mismatch Made in Heaven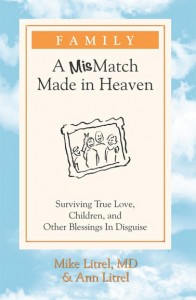 This book by practice physician and award-winning columnist Dr. Mike Litrel and his wife, artist Ann Litrel will strike a chord with anyone who has ever found true love – and then wondered if maybe they took a wrong turn somewhere. The stories are filled with honesty and laugh-out-loud humor, in scenarios anyone who has ever been married will recognize. As the authors trade stories from twenty-five years of marriage, readers get a glimpse into a life that is filled with love, laughter, parenting struggles, and a humbling appreciation of a Greater Power.
Signed copies of Family – A Mismatch Made in Heaven are available for sale in the office, or go here for more information.