November 8, 2018
by James Haley, MD, FACOG, FPMRS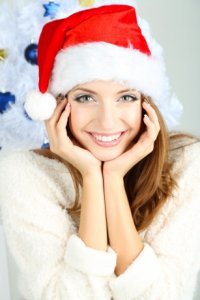 Holiday parties are here. Yes, it's great to see friends and family – but it can be exhausting and sometimes downright stressful.
Whether you're getting ready for family photos, the annual work party or a neighborhood get-together, a quick cosmetic treatment with Botox and fillers just might be the best gift you could give yourself this holiday season.
3 Reasons to Consider a Holiday "Pick-Me-Up":
1. HELP! I know it's normal, BUT… can I lose these crow's feet and frown lines for just a little while?
Those pesky lines between your brows, or those little wrinkles at the corners of your eyes, are your badge of honor for living life to the fullest. But sometimes you might want them less…noticeable. Just one treatment of Botox can help smooth those lines away.
Botox is one of the most extensively studied esthetic treatments, used for facial injections to "freeze" muscles so they can no longer form habitual lines and wrinkles. The most amazing benefit of Botox is that facial lines and tell-tale signs of age are wiped away.
2. Finally, I can see my cheekbones! Now how about some baby fat to plump them back up?
As we age, fat may accumulate on the body, but it actually diminishes in certain areas such as the face, neck and shoulders. Dermal fillers help restore plumpness and lost fullness to relieve facial "furrows." A filler is an injectable FDA-approved substance designed to take the place of lost fat beneath the skin. A single filler treatment will restore plumpness and fullness for a more youthful face.
3. I've got the holiday blues – can I have a little mood lift?
One of the most surprising effects of Botox has emerged from several recently published studies: the potential to relieve some depression (and not just because you look better).
Studies performed in Hanover Medical School in Germany in 2012 found that Botox injections in facial muscles involved with emotion eased the symptoms of depression. There appears to be a link between the emotions expressed by the face and the brain, a "feedback" cycle transmitted through the nerves. When Botox is injected into facial muscles, frown lines are not able to physically form. Our brains interpret the feedback from our facial nerves as more positive feelings. Three small subsequent studies from a researcher at Georgetown University appeared to confirm these findings.
Why Choose Cherokee Women's Health Specialists?
Our double board-certified physicians know and understand a woman's anatomy from head toe — and Dr. James Haley has been certified and trained in injectables since 2007 — so whether your reasons are 1, 2, or 3, Botox and dermal fillers can help you feel refreshed and renewed for the holidays.
Call today to schedule a free consultation at 770.720.7733.