Endometrial Ablation: A Minimally Invasive Solution for Heavy Periods and Menstrual Relief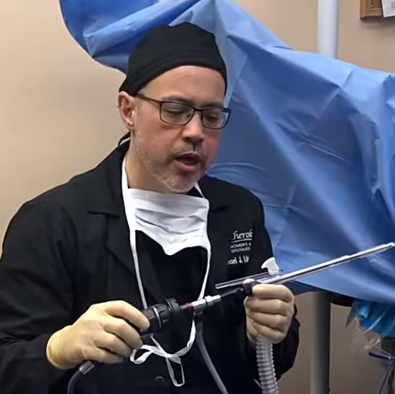 Today, we're going to perform an endometrial ablation procedure, also known as HTA, which stands for hydrothermal ablation. Essentially, this instrument will be inserted into our patient's uterus to burn the lining and stop her periods. The good thing about this procedure is that the patient has been experiencing heavy bleeding for ten days a month and is unhappy with it. She doesn't want any more children but also doesn't want surgery or any invasive procedures. This device works inside the uterus without affecting the woman's hormones and reduces bleeding by about 90%.
Watch Dr. Litrel's accompanying video.
We've already inserted the device into the patient's cervix and uterus, and we can see the interior of her uterine cavity. There's a significant amount of tissue on both the top and bottom surfaces, but we have confirmed through a biopsy that there's no evidence of hyperplasia, cancer, or precancerous lesions. Now that everything is ready, we will proceed with the ablation.
No Pain or Discomfort
We're almost at the end of this ablation, with about two minutes remaining. The great thing is that the patient doesn't feel any pain or discomfort during this process. As we proceed, the lining of the uterus is changing from a pink, blood-filled appearance to a nice whitish color, indicating the successful ablation of the vasculature. This means her periods will be significantly decreased.
What to Expect After an Endometrial Ablation
After the procedure, the patient will tolerate it well and will be able to leave our office within 20 minutes. The benefit of this ablation is that it's a 10-minute procedure performed in the office, providing relief and decreased bleeding without impacting her hormones. She'll be able to resume normal activities later today or tomorrow and should have an easy recovery without any significant disruptions. We hope that her menstrual cycles will also stop altogether.
If you suffer from heavy periods and would like to schedule an appointment at either our Canton or Woodstock location, call us today at 770.720.7733, or simply request an appointment online.