Being Pregnant and Having a Newborn During a Pandemic – Nicole's Story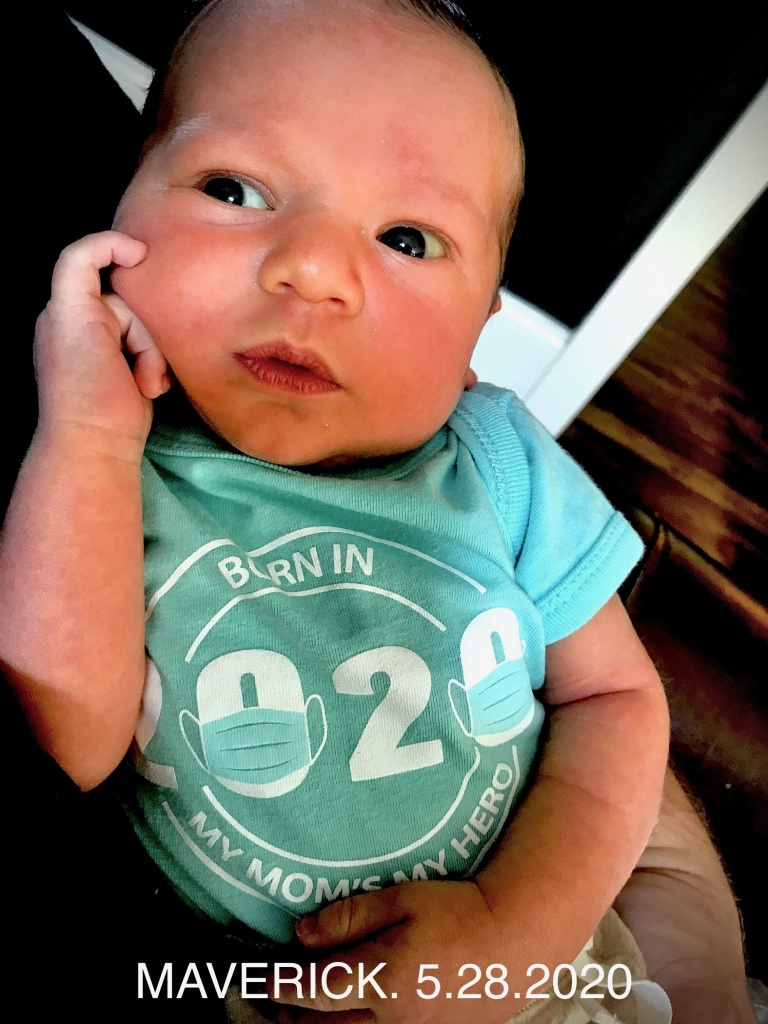 Being pregnant and having a newborn during a pandemic certainly raises the level of anxiety for soon-to-be moms. Nicole found this out first hand. This is her story.
During her pregnancy with her third child, Nicole was due for her monthly OB appointment just as the whole quarantine situation began. She knew that pregnant women are immunocompromised so, feeling nervous to go out anywhere, she decided to skip her monthly pregnancy checkup appointment.
Feeling Safe at OB Appointments
Cherokee Women's Health immediately put several COVID-19 safety protocols in place and contacted patients to explain how they were keeping their patients and staff safe. Nicole was contacted soon after her missed appointment and learned that they were taking temperature checks at the door, performing frequent and extensive cleanings, practicing social distancing, requiring everyone – staff and patients alike – to wear masks, and more. This made Nicole feel comfortable that they were doing everything possible to keep her and her unborn baby safe, so she decided to reschedule her appointment.
Changes at Home
Throughout Nicole's pregnancy, she continued following her doctor's guidelines, as well as the mandated quarantine. This meant she barely left the house. Her husband Eddie was now working from home and because schools closed, she was now busy having to homeschool their two girls – Bella, 11 and Charlie, 5.
The family made a conscious decision to stay isolated at home, except for her doctor appointments. She only went to the grocery store after placing a pickup order so she could stay in her vehicle and limit exposure.
Nicole shared, "We were really living in a bubble, just doing what I could to protect myself and my baby. It actually turned out to be a blessing to have so much time together as a family, without the chaos of our normal schedules."
Breech Baby
As if having a baby during a pandemic wasn't stressful enough, Nicole learned during one of her OB appointments, that her baby was breech. At her 37-week appointment, the baby still had not turned so the decision was made to try an External Cephalic Version (ECV). An ECV is a method where the doctor externally tries to turn the baby. This procedure has a success rate of 50%. It has to be done in the hospital as there is a small risk that the mom may go into labor, or that the baby can go into distress, in which case an emergency C-section would have to be performed.
Nicole spent the next week trying some at-home techniques to get the baby to turn, but nothing changed. At 38-1/2 weeks, Dr. Britton Crigler performed the ECV. It was successful!
"Dr. Crigler flipped the baby in less than five minutes. I was so thankful! I had both of my daughters vaginally and wanted to be able to do the same with this baby."

– Nicole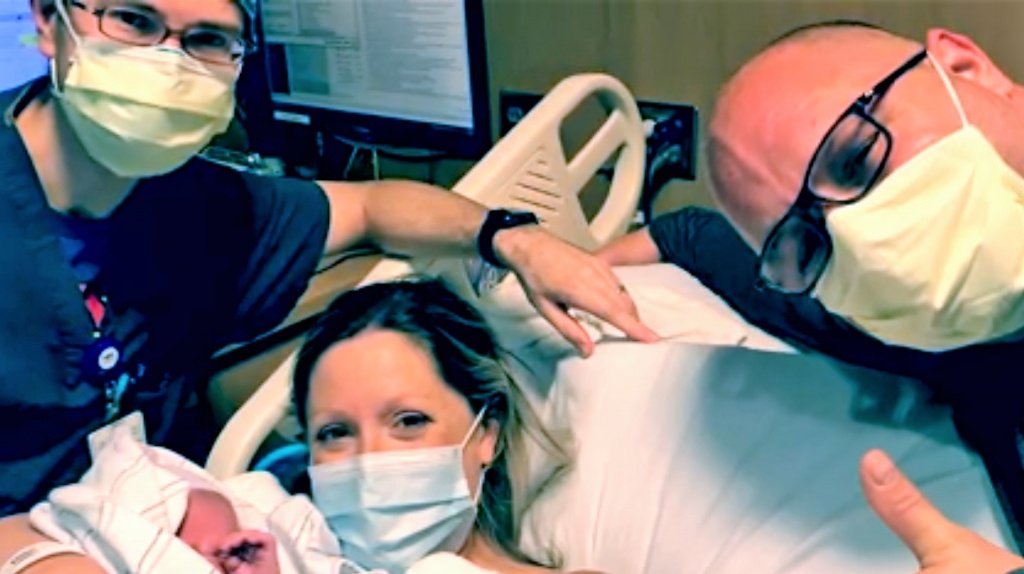 Dr. Crigler with Nicole, Eddie and baby Maverick
While she was being monitored over the next hour, Nicole began to have contractions and then began to dilate about a centimeter an hour. Finally, at 3:30 a.m. Dr. Crigler delivered a healthy baby boy, whom she and Eddie named Maverick.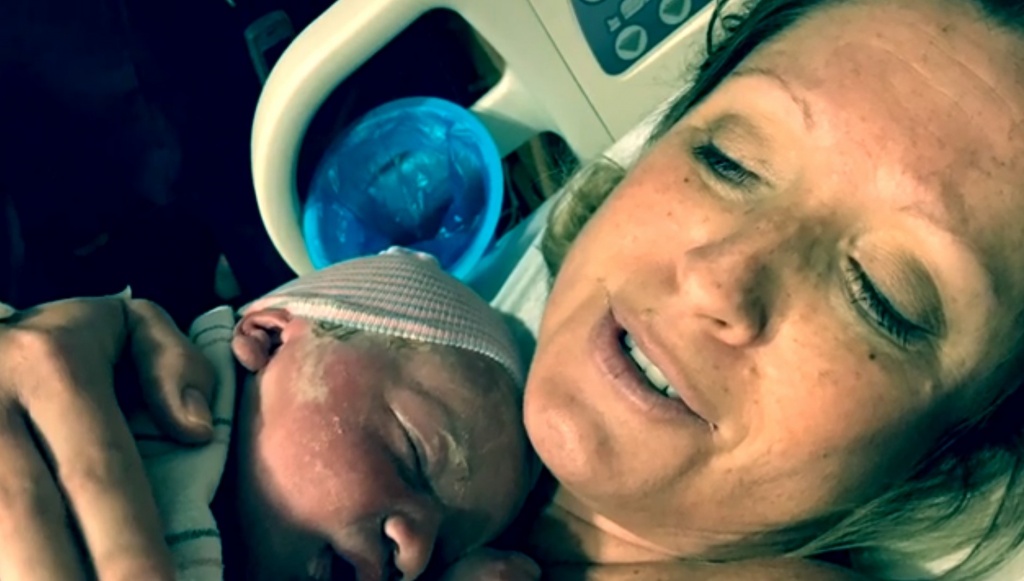 A Healthy Baby Boy
Nicole shared, "Although we loved all the doctors we had seen at Cherokee Women's Health during the course of my pregnancy, we were so excited that Dr. Crigler was on call that night. It seemed fitting since it was because of him earlier that day performing a successful ECV, that I was able to deliver without having a C-section."
Support from Friends
It certainly was different this time around with no family and friends there in the waiting room, but we didn't dwell on it," Nicole shared. It also helped that Nicole and Eddie were friends with another family who had been isolating during the past few months as well, so towards the end of the pregnancy, they had a few social distancing get-togethers with them. And since both Nicole and Eddie's families lived out of state, these friends graciously kept Bella and Charlie while Nicole was in the hospital. They even took the girls on vacation with them the following week, which gave Nicole, Eddie and baby boy Maverick a chance to spend time alone and bond.
Then, at Nicole's request, her mom made the trek from Tennessee — after quarantining herself for 14 days — and got to meet her new grandson for the first time!
Nicole's Experience of Having a Newborn During a Pandemic
When Nicole was asked what it has been like having a newborn during a pandemic, she replied, "It has been a bit of a challenge. Because of all the protocols still in place, Eddie and Maverick could not accompany me when I went in for my follow-up appointment. And since I was breastfeeding, I had to work my appointment around Maverick's feeding schedule. Eddie found that to be quite stressful, but the next time I went, I pumped ahead of time, and Eddie was able to give him a bottle. We both certainly understood though, as everyone's safety and health are what is most important."
Nicole's Advice for New Moms
Nicole offered the following advice on how to deal with being pregnant and a new mom during this trying time:
"Do all you can to protect your health and your baby's. As more and more things are starting to open, don't get too lax. Follow your doctor's orders, wear a mask, and stay away from others as much as possible. Remember that in the big picture, nine months is a short amount of time. It's a small sacrifice for such a wonderful outcome".

– Nicole
Wonderful it has been. Nicole and Eddie are enjoying having so much time together as a family with their newest addition, Maverick. And of course, Bella and Charlie are loving their new roles as big sisters.