Having a Baby During a Pandemic – Rebecca's Story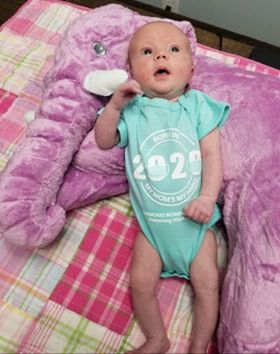 Rebecca was in the third trimester of her pregnancy when the COVID-19 pandemic began. Quarantine became a state mandate, grocery stores began to run out of products, and the phrase social distancing became a part of everyone's vocabulary. Even her routine OB visits began to look quite different.
It seemed everything about 'normal' everyday life changed overnight for her and her husband Stephen, already parents to 2 ½ year old Leif.
Rebecca also noticed that Cherokee Women's Health Specialists immediately made changes by following CDC guidelines and going above and beyond to keep their patients safe. A patient of Cherokee Women's herself for over six years, Rebecca had complete trust in her doctors and was reassured that they were practicing such strict protocols.
Some of those protocols included having her temperature checked by a gloved and masked nurse at her appointments, before even entering the building. She was required to wear a mask and the waiting room had even been reconfigured to accommodate the new social distancing protocol. And often, patients were required to wait in their cars until it was time to go straight to the exam room to see the doctor. This was just a few of the noticeable changes.
Rebecca didn't mind the new procedures though. She said, "Because Cherokee Women's Health kept all their patients updated by e-mails, texts, and social media, I felt well prepared as to what to expect at my appointment, and most importantly, I felt completely safe."
Rebecca's visits continued this way throughout her pregnancy, while receiving regular recommendations and updates along the way to keep her informed and calm.
Going Into Labor
On April 12th, Rebecca went into labor. With her contractions starting at about seven minutes apart, she and Stephen headed to Northside Hospital Cherokee.
"Just like Cherokee Women's, the hospital was great at trying to make everything feel as normal as possible under the circumstances," Rebecca shares. The most noticeable difference was that she and Stephen had to wear masks. The hardest thing was that their family and friends couldn't be there in the waiting room for them, like they had been when she delivered Leif. Thankfully, she didn't have to wait long.
At only one centimeter dilated when she arrived, her water broke immediately and within 30 minutes of arrival, Rebecca delivered a beautiful, healthy baby girl, whom they named Torin.
She recalls. "I didn't even have time for an epidural — and it was hard. I didn't think I could do it, and whenever I said so, Dr. Goodson-Gerami, (who is affectionately known as Dr. GG to all her patients at Cherokee Women's), talked me through it. She was tough when I needed her to be, but also kind and encouraging."

– Rebecca
Being a New Mom During COVID-19
Being pregnant and delivering during a pandemic was certainly quite different, but coming home was even more so. Not having family and friends there to meet their new family member was sad, but at least Rebecca's mom was able to be there for them. She babysits for Leif as Rebecca works full time. Her mom had been quarantined as well and has only been around them, so they felt safe having her there. Rebecca and Stephen just recently allowed a few close family and friends to visit, while keeping their distance, and not being able to hold Torin.
Taking care of and enjoying Torin has been their newest quarantine activity, along with searching for diapers and wipes in the store and online, as those are a couple of essential items that are harder to come by. But Rebecca is thankful that she still has a supply and she's especially grateful that there has been no problem finding formula.
"Overall it was a great experience delivering with Cherokee Women's again. Everyone was amazing, kind, sweet, and extremely helpful throughout this whole journey. I highly recommend them."

– Rebecca
After six weeks of maternity leave, Rebecca's mom will now have two little ones to look after because Rebecca will be returning to work. Luckily, her employers are also implementing strict protocols so she feels safe going to work and returning to her precious family each day.