Rebecca's 2nd Baby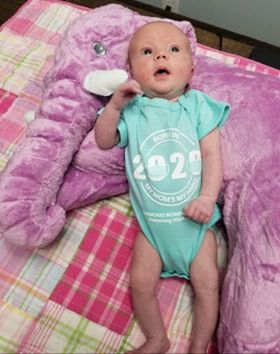 Rebecca had been a patient of Cherokee Women's for over six years when she became pregnant with her second baby.
She and her husband Stephen were already parents to 2-½ year old Leif, so she had an idea of what to expect.
As the first time, she kept her regular OB visits all throughout her pregnancy, and everything looked great.
Going Into Labor
Rebecca went into labor on April 12th. With her contractions starting at about seven minutes apart, she and Stephen headed to Northside Hospital Cherokee in Canton.
She was only one centimeter dilated when she arrived and her water broke immediately. In just 30 minutes after arriving at the hospital, Rebecca delivered a beautiful, healthy baby girl, whom they named Torin.
"I didn't even have time for an epidural. It was hard. I didn't think I could do it, and whenever I said so my doctor talked me through it. She was tough when I needed her to be, but also kind and encouraging," Rebecca recalls.
Balancing Home and Work
After six weeks of maternity leave, Rebecca will be returning to work, which means her mom will now have two little ones to look after. But, Rebecca knows that at the end of each day, she has her precious family to look forward to and is very grateful.
"It was a great experience delivering with Cherokee Women's again. Everyone was amazing, kind, sweet and extremely helpful throughout my whole pregnancy journey. I highly recommend them."

– Rebecca