A Mom's Journey from Grief to Joy
"The darkest time of my life was after I lost my baby at 25 weeks. The grief was unbearable. My hopes and dreams of a perfect pregnancy and a healthy baby daughter were shattered," explains Brielle.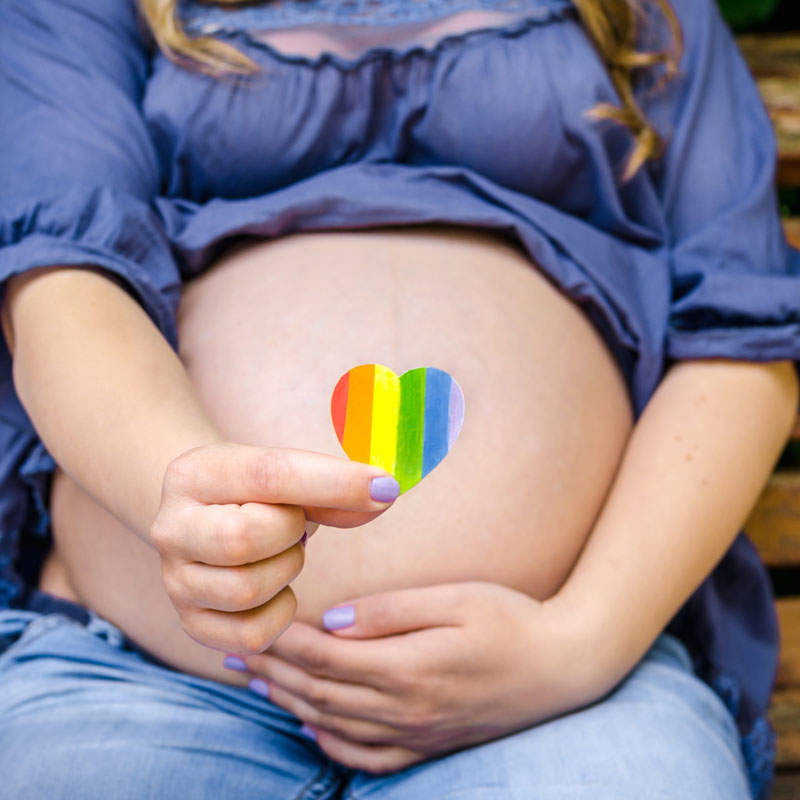 Brielle, a patient at Cherokee Women's Health, lost her first baby when she was 25 weeks pregnant. She eventually went on to give birth to a healthy baby boy but the journey to get there was an emotional one. Here, she shares her journey.
Getting Pregnant
Within just a few days of missing her period, Brielle took a home pregnancy test, which tested positive. Excited, she quickly followed up with an appointment with Cherokee Women's Health Specialists and her doctor confirmed it — she was pregnant.
Brielle was ecstatic as she and her husband Mark had been trying to conceive for five months. She had dreamed of becoming a mother and she shouted the good news from the rooftops.
Everything seemed completely normal to her, and her doctor confirmed that the baby seemed to be growing as expected.
But throughout the first trimester she experienced extreme nausea, loss of appetite, and even vomited multiple times. Then, as the second trimester started, she felt much better and she began to get her appetite back. At her next routine OB visit, her doctor shared that her baby was growing and looked healthy. The ultrasound revealed that she was carrying a baby girl.
Brielle and Mark were beyond excited about their baby daughter and couldn't wait to tell their extended families. They planned a gender reveal party with their family and friends for the next weekend. Brielle's mom and sister popped the balloons together as the pink confetti exploded, revealing to everyone that a baby girl was on the way.
They began the process of decorating the nursery and preparing for what she thought would be the happiest time of her life. Brielle went shopping with her mom and sisters and bought girly outfits, bows and soft blankets in anticipation of her baby girl's arrival. She even had the names narrowed down to two top choices — Ella and Miranda. She couldn't quite decide on which one but she knew she had a few months to decide. She kept tossing the names around in her head attempting to pick the perfect name for her daughter.
Something's Wrong
And then it happened. Brielle woke up one morning and instantly felt something was wrong. She had been feeling the baby move for a couple of weeks, but that morning was different. She felt no movement at all. Nothing. Her heart sank and she said she felt a wave of panic. Luckily, Mark was still home so he called her doctor's office. He was able to immediately get the triage nurse at Cherokee Women's Health on the phone, who told him to bring his wife to the office for an ultrasound.
"Julianna was as kind and compassionate as could be, but I could tell that something was not right by her facial expression," Brielle recalls.
Julianna, the ultrasound technician called in Dr. Hale. Brielle was told the most devastating news imaginable — her baby had suddenly died.
The Grieving Process
Brielle shared that the following days were a blur and the saddest time of her life. She was put in the hospital, induced labor and had to give birth to a baby that had died. She and Mark's hearts were broken as they held their baby and mourned the loss together. They named her Ella, which was ultimately what they decided was her name when they saw her for the first and last time.
Tests were run, and nothing was ever confirmed about Ella's cause of death. Brielle was told that it wasn't her fault, and her doctor seemed to think that it was an extremely rare occurrence and she would be able to try to conceive again soon.
For several months following, Brielle went through a deep personal struggle. There were many days where she couldn't get out of bed. She had to seek counseling, and she credits God, her family and her counselor for pulling her out of a depression. Her faith in God was tested, but ultimately she decided she had to go on and trust that He had a plan for her future.
Getting Pregnant Again is Emotional
Brielle and Mark finally decided that they were emotionally healthy enough to try to get pregnant again. They knew that they would forever mourn their loss of Ella, but both felt a strong need to move forward. Staying in the depression and sadness was not an option, so trying to conceive again was at least a step in the right direction.
After 4 months of trying, Brielle finally had a positive pregnancy test. She was relieved, scared, and was hesitant to share the news this time. After her 12-week visit with her doctor and an ultrasound, she finally told her family that she was pregnant.
"During the pregnancy, we were put on a strict schedule of doctor visits, and at 24 weeks, we started going to the doctor every week. I was also given a Doppler so I could hear the baby's heartbeat at home. I used that thing all day long!"
Brielle shared that her entire pregnancy the second time around was stressful. She said she wanted to feel the baby moving all the time, and when she didn't feel movement, she felt that familiar wave of panic and fear. She was nervous until the day she gave birth.
A Healthy Birth and Newborn Son
At 39 weeks, Dr. Hale delivered Brielle's healthy 7 lb. son, Jacob, via scheduled C-section. Brielle and Mark say they are grateful for their son, who is now 6 months old and is healthy and thriving.
"My doctor told me I had a 'Rainbow Baby', a baby after a miscarriage or stillborn birth. I honestly had never heard that term before, but I loved it since it refers to the rainbow after the storm. I like to think that my rainbow baby was the light after the dark, since I remember the very dark, sad times after Ella's death. You can only experience the light if you have been in the dark."

– Brielle
Brielle goes on, "It's hard to explain how it feels because the mourning never stops. But you appreciate things more after a hard loss. I certainly know that throughout my next pregnancy I felt different. I didn't take anything for granted and I prayed every day — several times a day — for the health of my son. I am forever grateful that he is healthy."
Brielle adds, "Everyone at Cherokee Women's Health was absolutely wonderful. They were there for me at my darkest hour, and literally holding my hand with empathy and compassion during the whole pregnancy and delivery. I couldn't be happier with the outstanding care I received."