A Rainbow Baby Story: After the Storm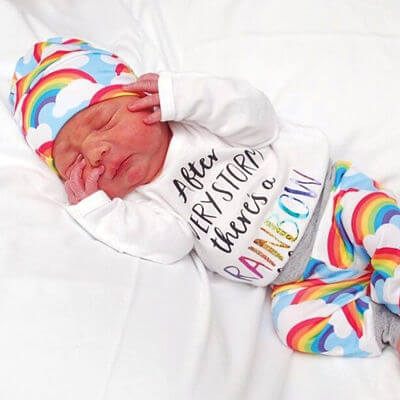 A rainbow baby is a baby born after a miscarriage, stillborn birth, or early infant death. With the latest statistics showing that one in four pregnancies will end in miscarriage, rainbow babies are more common than many realize. And in some cases, unfortunately, those statistics are even higher. Some women experience multiple miscarriages before they are finally able to have a baby, or even have a miscarriage between healthy pregnancies.
Sheila Shares Her Story
Sheila, a patient of Cherokee Women's Health, suffered multiple miscarriages so we recently sat down with her to get her story.
Q: Tell us about your miscarriages before you gave birth to your recent rainbow baby, Samuel.
Sheila: I have had seven total miscarriages, five consecutively before Samuel. I have three children – a daughter, 20; and two sons, 14 and 12. After our youngest, we tried for six years for Samuel, who is now six weeks old. So, I really have three rainbow babies.
Q: How far along were you with each miscarriage?
Sheila: I lost one at 8 weeks. It was discovered at the ultrasound that the baby had not grown or progressed. I lost one at 18 weeks , also discovered at the ultrasound, that there was no longer a heartbeat. The next five were before Samuel. I lost one at 10 weeks, where it was discovered at the ultrasound that there was an empty sac, a blighted ovum. Then I had one where I went into labor at 16 weeks and delivered him, (Caleb), in the emergency room. I then had Josiah who I went into early labor with at 22 weeks and 6 days. He was born alive and died 4 ½ days later. After Josiah, I miscarried Thomas at 18 weeks. Then I had another pregnancy that, at 10 weeks, we also discovered it hadn't progressed.
Q: It's difficult enough to suffer through one miscarriage. What were your emotions like having been through seven?
Sheila: I was affect the same, and differently, by each one. At that moment in time the pain is real and the same for all. But looking back, the later ones were even more difficult. It was that the pregnancy "took", and yet my body was rejecting them. I felt like the one thing that should be easy for a woman to do, I was having such difficulty with. I felt guilt, sadness, anger, all the expected emotions. But losing Josiah really destroyed me since he died in my arms at four days old.
Q: What was the pregnancy like with Samuel?
Sheila: I went into active labor with him at 24 weeks. My doctor gave me the medicines needed to try and stop labor. Since I was still contracting, he eventually had to transfer me to the Northside Atlanta Neonatal Intensive Care Unit (NICU) in case I delivered. I was there for three days and it finally stopped so I was sent home with continued medicine, care of a specialist, and put on full bedrest for the remainder of the pregnancy.
Q: At what point were you able to relax?

Sheila: Never. Not until they put him in my arms.
Seeking Help
Q: Where did you turn for comfort or support through all of this?
Sheila: One of my best friends had a daughter stillborn at 40 weeks. I leaned on her a lot for support. I got comfort just talking about it with family and friends, so I also joined online support groups where everyone shares their stories. What also helps me is remembering each one, knowing their due dates/birthdates, saying their names — honoring them.
Q: What advice or words of wisdom can you share with others who may be going through the pain of miscarriage?
Sheila: Don't give up and keep your faith, because even though I had those dark days when I was angry and questioning God, I knew that without my faith that I wouldn't have gotten through, and I wouldn't have my rainbow baby. I had to take it one day at a time. Again, don't give up, look at me!
Her Rainbow Baby and Cherokee Women's Health
Q: Were you with Cherokee Women's Health through all of your miscarriages?
Sheila: I was with Cherokee Women's through the five consecutive ones prior to Samuel, so I saw all of your physicians and advanced practice providers. We live about two hours away so I started seeing a local doctor when I got pregnant with Samuel. However, I didn't feel like he was taking my history seriously enough though, so I decided to make the drive and come back to Cherokee Women's Health at 18 weeks. My doctor was wonderful at my first visit, and because of my history, she made sure to get a specialist involved right away and even made the appointment for me while I was still in the exam room.  All of the doctors at Cherokee Women's were on top of everything and very caring and supportive.
Three Rainbow Babies
Sheila says that after 11 pregnancies and four children, three of which are rainbow babies, she and her family are grateful for all their blessings. She hopes that by sharing her story, as painful as much of it still is, that she can offer hope to another. As we know, the rainbow can't come until after there is a storm.
Miscarriage Resources
You may find the following resources helpful in your recovery process:
H.E.A.R.T. Strings Support Group – Hope, Empathy, Alliance, Resources and Teamwork
Perinatal Bereavement of Palliative Care. Email them at northsidepnl@gmail.com or call them at 770.224.1817.