Pregnant? Why the Flu Shot is So Important For You and Your Baby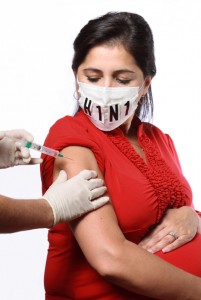 If you're pregnant, a flu shot is your best protection against serious illness from the flu. Flu is more likely to cause severe illness in pregnant women than in women who are not pregnant. Changes in the immune system, heart and lungs during pregnancy make pregnant women more prone to severe illness from flu, which can lead to hospitalization or even death. A pregnant woman with the flu also has a greater chance of serious problems for her unborn baby, including premature labor and delivery.
The Flu Shot is the Best Protection against Flu Getting a flu shot is the first and most important step in protecting against flu. When given during pregnancy, the flu shot has been shown to protect both the mother and her baby (up to 6 months old) from flu. The flu shot is safe to get at any time while you are pregnant, during any trimester. (The nasal spray vaccine should not be given to women who are pregnant.) An additional way to protect the baby is for all of the baby's caregivers and close contacts (including parents, brothers and sisters, grandparents and babysitters) to get vaccinated against the flu.
When to Receive the Flu Vaccine It is particularly important that women who are or will be pregnant during the flu season receive an inactivated flu vaccine as soon as it is available. The inactivated flu vaccine can be given to women at any point during their pregnancy. Live, attenuated flu vaccine is available as an intranasal spray and is not recommended for pregnant women, but is safe for use in women in the postpartum period. In the United States, the influenza season typically occurs from October through May. The preponderance of data overwhelmingly demonstrates the safety of flu vaccination during pregnancy.
The Flu Shot is Safe for Pregnant Women Flu shots are a safe way to protect pregnant women and their unborn children from serious illness and complications of flu, like pneumonia. The flu shot has been given to millions of pregnant women over many years. Flu shots have not been shown to cause harm to pregnant women or their babies. It is very important for pregnant women to get the flu shot.
Early Treatment is Important for Pregnant Women  If you get sick with flu-like symptoms, call your doctor right away. If needed, the doctor will prescribe an antiviral medicine that treats the flu. Having a fever caused by flu infection or other infections early in pregnancy can lead to birth defects in an unborn child. Pregnant women who get a fever should contact their doctor as soon as possible.
More Facts to Support the Importance of Flu Shots The Center for Disease Control and Prevention (CDC) recommends that all adults get vaccinated for influenza. This is especially true for woman who are pregnant. According to a study conducted by American College of Obstetricians and Gynecologists (ACOG), the number of pregnant women who are vaccinated has gone up since last recorded in 2010. However, it is still important that this number continues to increase.
If a woman is – or may become pregnant – during the height of the influenza season, it is critical that she get vaccinated as quickly as possible. Flu season is usually between October and May. It is recommended that pregnant women receive the inactivated flu vaccine as it has been proven to be safe throughout the gestation period. Different immunization options are available for women who are postpartum so be sure to check with your physician about which options are right for you.
In addition to the benefits and protection provided by being vaccinated, a recent randomized trial found that the children of vaccinated women had fewer instances of getting the flu as well as fever and respiratory illness as opposed to children whose mothers were not vaccinated. Studies have also shown that some of the antibodies may be passively acquired by the baby in utero when pregnant women are vaccinated. This helps babies fight any threat to influenza after they are born. Newborns up to six months of age cannot receive the influenza vaccine.
Where to Receive the Flu Vaccine At Cherokee Women's Health Specialists, we are committed to making sure you are well-informed so you may make the healthiest decisions for yourself and your families. To make it as easy as possible for you to receive a vaccination, following is a list of places in the Canton and Woodstock areas that offer flu shots: