Umbilical Cord Prolapse Results in Emergency C-Section
An umbilical cord prolapse was the last thing Mary expected when she delivered her baby. A first-time mom, she quickly learned it's true that every pregnancy is unique and every woman's journey is different. Hers was certainly unlike anything she envisioned. She learned that you can plan and prepare all you want, but sometimes things just go differently.
Starting a Family
Mary and her husband, Marc, were ecstatic to start growing their family. Mary learned she was pregnant with twins early in her pregnancy but unfortunately found out at her 12-week appointment that one of her babies did not make it. Thankfully, she says the staff at Cherokee Women's Health Specialists made her feel safe and well taken care of throughout her pregnancy journey.
"While it was a difficult time, I felt very cared for the whole time."

-Mary, referring to her OB appointments
Time to Deliver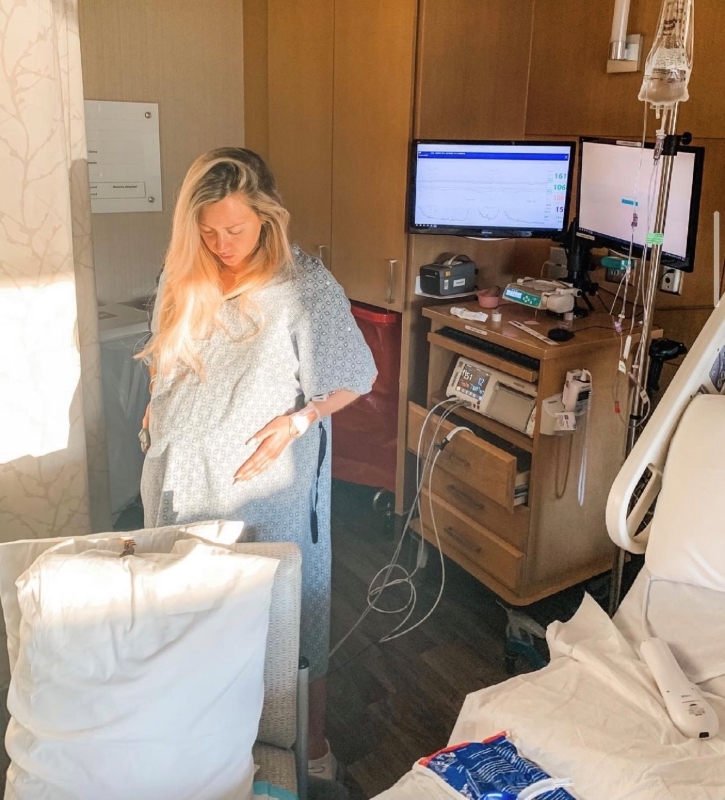 Fortunately, Mary had a healthy pregnancy, and after nine long months, it was almost time to deliver her baby boy! Mary saw her doctor at her 39-week appointment and scheduled her planned induction for the following week. On May 6th, Mary and Marc arrived at the hospital and the journey to meet their little bundle of joy began.
Mary was given Cytotec, an oral tab used to induce labor by softening the cervix to allow easier dilation and to help with the induction. After taking a few doses of Cytotec throughout the night with no success, her doctor inserted a type of catheter into the cervix to help try and open it more. After 21 hours of natural laboring, Mary reached seven centimeters dilation. Her doctor came in, removed the catheter, and then her water broke. Mary remembers this moment well because she could hear the water hit the floor.
"It was a huge gush of water. In the movies, it seems like that, but I've heard multiple times from birthing classes and other people that usually when your water breaks in the hospital it's like a trickle, but this was definitely a lot of water."

– Mary recalling her water breaking
We Need to Do a C-Section Now!
Everything started to happen very quickly after her water broke. Her doctor could feel the baby's head drop, and she felt the umbilical cord coming down as well. She then told the nurse it was a "cord prolapse", and seconds later, several nurses were in the room.
"We're going to have to go in for an emergency C-section because we have to get this baby out! It's going to be okay, but we need to do a C-section right now!"

– Mary's doctor
What is Umbilical Cord Prolapse?
Umbilical cord prolapse occurs when the cord drops through the open cervix into the vagina before the baby moves into the birth canal. When this happens, the cord is squeezed between the baby's body and the mother's pelvic bones. This reduces the baby's blood supply, leading to loss of oxygen to the baby. If this happens, the baby must be delivered immediately to avoid any risks related to reduced oxygen.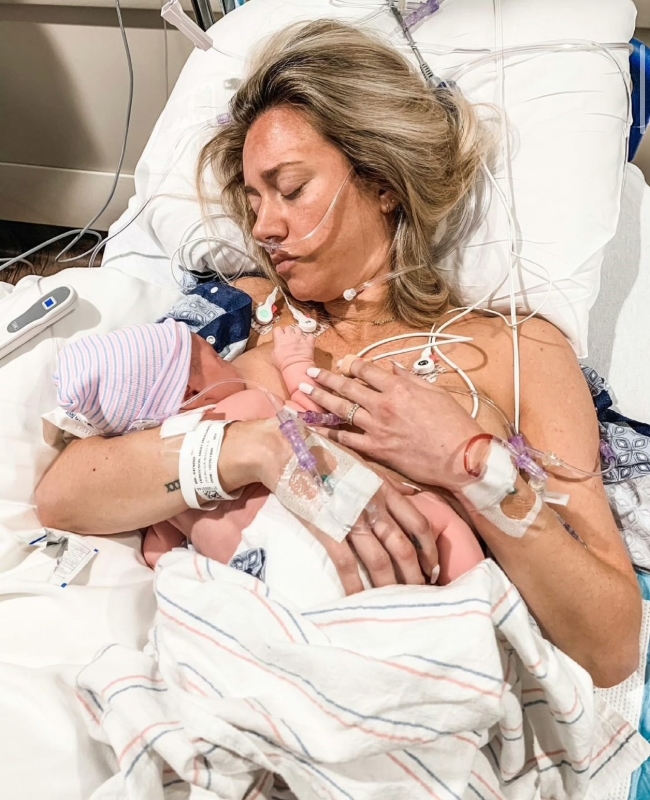 Umbilical cord prolapse occurs in about 1 in 500 births. It is dangerous for the baby and can result in stillbirth.
"I was so scared. I kept repeating, am I okay? Is the baby okay? I must have asked that 100 times. My amazing doctor was so nice and kept assuring me that I was going to be okay."

– Just before giving birth
A nurse then came in Mary's room, hopped on the bed with her, and had to keep her fingers inside to hold the baby's head and keep the cord in place as she was wheeled to the procedure room.
"Since everything was happening so fast, and it was emergency C-section, my husband Marc wasn't allowed in the room. This was so hard on both of us. I looked at him and I knew he was upset. It's just not how you see your first delivery going. I cry every time I think about every single person in that room, assuring me I would be okay."

– Mary remembers the stressful time
Grateful for my Baby Boy and My Amazing Doctor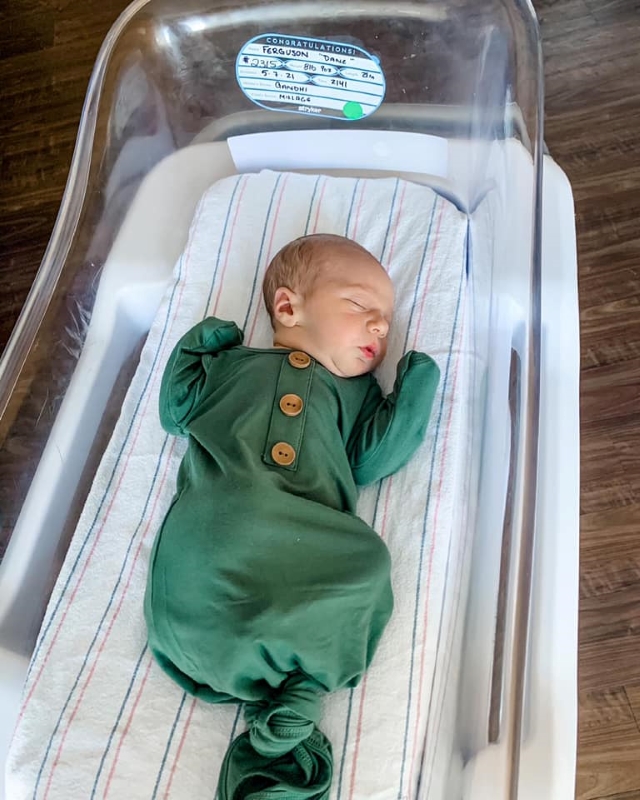 Minutes later, baby Dane was born a healthy 8 lbs. and 9 ounces. Because Mary had to be put to sleep for the emergency delivery, Marc was the one to hold their son for the first time. Mary woke up shortly after and started to breastfeed. Even though she was still groggy from the surgery, she says it was the best moment ever.
Advice for Soon-to-be-Moms
New mom and baby Dane are now at home and doing great. Although Mary's experience wasn't what she had originally planned, she still feels extremely blessed to have a healthy baby and the experienced team from Cherokee Women's Health Specialists by her side through it all.
"You never know what's going to happen, that's why it's important to find a practice you can trust. I've never been in a situation where I've had to be dependent on them but it's incredible how much they know and what they can do to help you. Cesarean birth was not my number one choice — even if it had been an epidural and if Marc had been right by me the whole time — but this situation was something I never pictured. More than anything, no matter how Dane came into this world, we are so blessed to have him to love on every day."

– Mary's advice to all soon-to-be moms