The Pregnant Vegan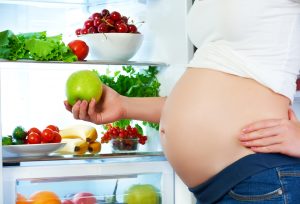 A healthy pregnancy requires that mothers-to-be eat foods rich in vitamins and minerals to help support their growing baby. One of the first prenatal appointments with an obstetrician will include a discussion about what foods to eat or avoid in order to provide optimal nutrition for fetal growth. The American Congress of Obstetricians and Gynecologists suggests that pregnant women eat a well-rounded diet which should consist of fruits and vegetables, whole grains, dairy, and meat. However, for those whose diets stray from the five food groups, such as vegans, or vegetarians, they simply need to find other foods or supplements that will provide adequate nutrition for themselves and their babies.
Veganism is a dietary lifestyle which completely abstains from the consumption of animal products. A vegan's diet eliminates: eggs, meat, dairy, honey, etc. It is not imperative for a vegan mother-to-be to include these food items in her diet because a 100% plant-based diet can include all the required nutrition a mom and baby need. A fundamental step is making sure to find alternative sources for the all-important vitamins and minerals needed to foster healthy development and less pregnancy complications.
Important Vitamins
Iodine
No matter her dietary lifestyle, iodine is one of the essential minerals that a pregnant woman must consume. Iodine is important for proper thyroid function, and critical during pregnancy for fetal neurological development. The recommendation for pregnant women is 220 micrograms of iodine a day. Even a small deficiency can have a major impact on fetal development, which is why sources of iodine need to be included in consumption. Due to its use in the milking process, dairy can often be a main source of iodine intake for women. Instead of dairy, a vegan mother can add iodine to her diet by taking iodine supplements, eating fortified foods, or using iodized table salt.
Iron
Iron is a mineral often found in red meat. Iron deficiency anemia is a concern for pregnant vegans, unless they can find alternative sources for the mineral. The body requires at least 30 milligrams of iron daily during pregnancy to increase blood supply and foster a healthy fetus. In addition to possibly adding in iron supplements, pregnant vegans should be eating green leafy vegetables, whole grains, and dried beans daily to ensure necessary iron levels.
Calcium
For vegans, sufficient calcium intake will be more tedious to acquire than simply drinking milk. 1,000 mg. are needed during pregnancy to help build healthy fetal bones and teeth. Vegans can turn to kale as a large source of calcium to add to their diet. Other top vegan calcium sources include: almonds, bok choy, turnip greens, or fortified foods such as soy milk, cereal or orange juice.
Vitamin B12
When it comes to vitamins, one vitamin vital to pregnancy is Vitamin B12. Vegans do not naturally consume as much B12, because they abstain from eating animal products which are rich sources of the vitamin. Plant products do not contain a considerable amount of B12, but foods such as cereal are often fortified with the vitamin. Pregnant women are recommended to take 2.6 mcg. of B12 a day, and even slightly more when breastfeeding. B12 deficiency is life-threatening, so pregnant and breastfeeding vegans need to ensure that their levels are appropriate for pregnancy.
Vegan mothers should bring up any questions or concerns to their doctor when it comes to meeting the crucial vitamin and mineral intake during both pregnancy and breastfeeding. It is always recommended to not begin taking any additional vitamins or supplements without consulting a physician first. If a mom-to-be is struggling to reach these nutritional values, she may be put in touch with a nutritionist, who can assist in planning a suitable diet for the duration of pregnancy and breastfeeding. Having a baby changes everything; but moms don't have to completely adjust their dietary lifestyles to keep themselves and their baby healthy.