The Number One Killer: Know the Signs!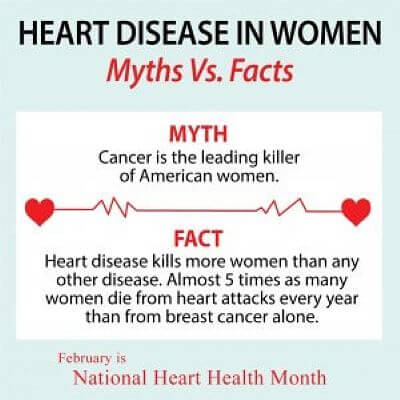 Did you know heart disease is the No. 1 killer of women, causing 1 in 3 deaths each year? That's approximately one woman every minute so it's important to know the symptoms and how you can take control of your risk factors.
The Most Common Heart Attack Symptoms in Women
Shortness of breath
Uncomfortable pressure, squeezing, fullness or pain in the center of your chest.
Nausea, vomiting, cold sweat or lightheadedness
Pain or discomfort in any of the following: jaw, neck, stomach, arms (one or both).
Lifestyle Changes to Help Prevent Heart Disease
There are many things you can do to control heart disease and with the right information and care, heart disease in women can be treated, prevented and even ended. Studies show that healthy choices have resulted in 330 fewer women dying from heart disease per day.
Don't smoke
Manage your blood sugar
Get your blood pressure under control
Lower your cholesterol
Know your family history
Stay active
Lose weight
Eat healthy
Trust your gut
Women are less likely to call 9-1-1 when experiencing symptoms of a heart attack themselves so trust your gut. If you aren't feeling normal or are experiencing any of the symptoms above, call 911 or head to your local emergency room.