January 15, 2018
Whether naturally or through in vitro fertilization, the number of women who are getting pregnant after 50 is increasing. Celebrities such as Gwen Stefani, Sophie Hawkins, Kelly Preston, Geena Davis, Janet Jackson, and Halle Berry were well into their 40's and early 50's before giving birth.
As more women wait to secure careers and stablize incomes before starting a family, their decision can come with the following drawbacks to both mother and child:
Miscarriage
Delivery by Cesarean
Difficulty in getting pregnant
Premature delivery
Gestational hypertension leading to preeclampsia
Gestational diabetes
Death during pregnancy or childbirth
Greater possibility of stroke in later years
Lung development problems in babies
Stillbirth
Low birth rate
Birth defects such as Autism or Down syndrome
Infant predisposition to overweight and diabetes
Because of these possible complications, pregnancies occurring later in life are considered high risk and therefore should be monitored more carefully. If you are considering getting pregnant after 50, you owe it to yourself and to your baby to choose an accredited OB-GYN whose experience, training and credentials encompass the entire spectrum of requirements and problems that could arise- one who will closely follow your progress throughout your entire nine-month gestational period. Prompt recognition and treatment of any complications that may occur from their onset are vital to both your health and that of your baby.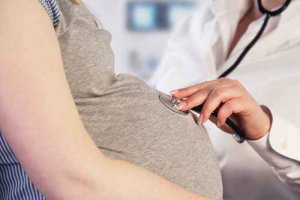 Unless you conceive naturally, which is rare for women over the age of 50, you would probably have to become pregnant via in vitro fertilization, using either your own stored eggs or those of a donor. Preconception and fertility counseling might be recommended to inform you of both the risks and benefits that may arise with starting a family later in life. Your entire pregnancy should be monitored from beginning to end with regular ultrasounds, checkups, and prenatal testing. If you are overweight, wish to maintain an already healthy weight, or want additional advice regarding the best food and exercise plan during your pregnancy, it may be wise to consult a dietitian. Finally, if you prefer a more holistic approach and opt for a midwife, finding one that is familiar with pregnancies occurring after 50 is as important as any physician you would choose.
Cherokee Women's Health Services not only offers all these amenities under one roof, but we offer them with a superlative degree of excellence. Our physicians and staff are trained to meet all your needs. Drs. Haley, Litrel, and Gandhi possess double accreditation in the field of Female Pelvic Medicine and Reconstructive Surgery (FPMRS). Receiving this credential requires years of additional education, skill, and training, not to mention meeting the strictest guidelines set forth by the American Board of Urology. Their 40 combined years of knowledge and proficiency ensure you will have optimum care during your mid-life pregnancy.
Our entire staff of OB-GYNs, counselors, and board certified midwives possess stellar credentials. They diligently remain abreast of the most advanced scientific breakthroughs in women's health, thus offering you the finest obstetric care modern medicine has to offer. They work as a team, making sure you receive every advantage to make your prenatal experience as safe as possible.
Practitioners at Cherokee Women's Health Services are affiliated with Northside Hospital-Cherokee and all babies are now delivered at its new location which opened earlier this year. Their birthing center provides a comfortable and modern environment with access to the latest technology only steps away should any last minute problems arise.
Our Patient Philosophy at Cherokee Women's Health
Our basic philosophy at Cherokee Women's Health Specialists is a simple one–to treat every woman who walks through our doors with no less than the same consideration, understanding, and respect we would expect for any woman in our lives. This tenet is one of the many reasons that our full-service facilities were voted both "Best OB-GYN in Towne Lake, Woodstock, and Canton" and "Mom-approved OB's" by Atlanta Parent Magazine readers. We take pride in these recognitions and make sure to pass the expertise that earned them on to you, the patient.
As we see more and more women get pregnant after the age of 50, we strive to keep ahead of all the improvements in medicine in regard to your special needs so that you and your baby can have a trouble-free pregnancy, safe delivery and can go on to enjoy the wonderful rewarding pleasures motherhood has to offer.
Call today to schedule an appointment with one of our OBs at 770.720.7733.