March 22, 2013
PRESS RELEASE
Date: March 2011
Release Date: For Immediate Release
Contact: Ann Litrel, Cherokee Women's Health Specialists LLC
678.640.8217
annlitrel@comcast.net
Subject: SILS™ Surgery
---
Hysterectomy is the second most frequent major surgical procedure among women of reproductive age in the United States, with more than 600,000 women undergoing the surgery each year to relieve such conditions as fibroid tumors, endometriosis, abnormal bleeding, even cervical cancer.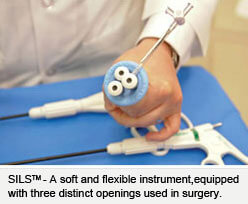 SILS™ (Single Incision Laparoscopic Surgery) uses a single incision in the belly button, rather than the three to four incisions required by standard laparoscopic surgery techniques, significantly reducing the potential for visible scars, pain, trauma and recovery time that normally accompany a hysterectomy.
Developed as a technique to provide a single access point for multiple surgical instruments, SILS™ has revolutionized the field of endoscopic surgery with the potential to treat a number of conditions including obesity, gastroesophageal reflux disease and appendicitis, and removal of problematic organs including the gall bladder, kidney and spleen. SILS™ also may be used for hernia repair, colon resection and liver resection.
Canton, Georgia, surgeon Dr. Jorge Lense is a pioneer in the SILS™ technique, refining the procedure to be used to perform hysterectomies. Since he performed Georgia's first SILS™ hysterectomy in March, 2009, Dr. Lense has lectured throughout the United States and at medical facilities around the globe to introduce the procedure.
His appearance on "The Doctors" in March, 2011, represents a milestone for the SILS™ hysterectomy procedure, providing important, timely information for the hundreds of thousands of American women who undergo surgery each year to remove the uterus.
Dr. Jorge Lense, MD FACOG, practices obstetrics and gynecology in Canton, Georgia, with Cherokee Women's Health Specialists, PC. He is a graduate of the University of South Florida College of Medicine and is the recipient of many academic and leadership honors in the field of medicine, including "Best Doctors in America" 2007 – 2009.
---
Articles and information contained herein are provided for media use and general reference. You may quote or share articles, provided you do so verbatim and with attribution to our website. If you quote one of our articles on a website, please link to the article on this site. Thank you.