November 26, 2013
The holiday season is typically a time to focus on family and friends, and what better way to do that than to introduce a new tradition into the mix? Especially for families with younger children, getting them involved in a new tradition can be something they look forward to for years to come. Traditions are an important way to establish a lasting connection between family members and are a wonderful way to keep loved ones closer together. In fact, most children love rituals, according to Martin V. Cohen, Ph.D., associate director of the Marital and Family Therapy Clinic at New York Hospital-Cornell Medical Center. "Children find a certain security and solace in something that gives a sense of belonging and comfort. Kids find rituals fascinating – artistically, spiritually and emotionally."
Suggestions for Introducing New Traditions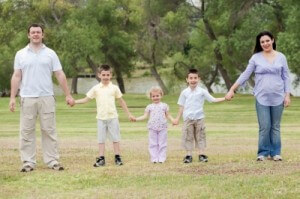 If your children are old enough to start participating in yearly holiday traditions, introducing a new one, and even inviting them to help introduce a new one, can make a lasting impression on them. Here are some suggestions on selecting new traditions for children of all ages:
Showcase holiday artwork on the table before your big family meal. Every budding artist loves to feel appreciated for their work.
Involve your kids in making one of the can't-miss dishes for your meal. Let younger kids help you mix the ingredients or help dollop treats onto a cookie sheet. By including one of the five senses, your children will make a stronger connection to that memory.
Ask older children if there's a tradition that one of their friends' family holds each year that they'd like to start in your own family.
Suggest a tradition from another culture to weave into your current traditions. This could be a way to introduce new experiences as well as teaching understanding of others.
For interfaith families, create holiday traditions that respect and honor both faiths. Discuss with your spouse or partner ahead of time the traditions that are most important for you to focus on, and build from there.
Suggest at least one tradition where your family gives back or donates to the less fortunate. Instilling these values in your children early will help shape them into compassionate people. (And what parent wouldn't be proud of that?)
Looking for a couple more suggestions? Here are 50 Holiday Traditions to get you started, or conduct a quick search on Pinterest for even more exciting ideas.
What are some of the traditions you currently have with friends or family? Share your favorite with us by leaving a comment below. And from the entire staff at Cherokee Women's Health Specialists, we wish you all a happy and safe Thanksgiving.
Photo courtesy of FreeDigitalPhotos.net