July 9, 2014
We are constantly looking for ways to make our patients' lives easier and to help them get the information they need quickly and easily. Recently, we upgraded to a new and improved online patient portal that will do just that. Cherokee Women's patients can now check results, message providers, make appointments and view health records online.
How Do I Sign Up?
Signing up for our new patient portal is super-easy. All you have to do is call the office and verify your email address, and we'll send you a sign-up email. From there, you'll need to input your password (our front staff will be able to help you with the temporary password) and follow the process to create your new account. Once you have your new account, you will have access to all your medical information, 24-hours a day. If you were signed up for the old system, your information is retained and automatically transferred to the new system, you just need to call the office for the new password and to verify your email address.
By using the Patient Portal, you can: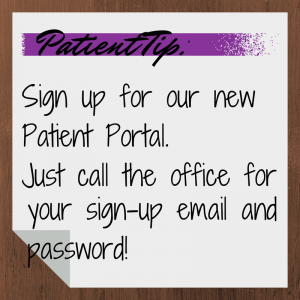 Request appointments that are convenient to your schedule
Pre-register and fill out health forms before your appointment, saving you time when you're at our office.
View lab results (As soon as we get them, they're available on the patient portal.)
Access your health records online for FREE. This is handy if you need to take them to a PCP, or for your own personal records, as you can do this with no hassle and no cost.
Send a question or message to your health provider
Pay your bill online safely and securely
Change your address or insurance information
Cherokee Women's Health Specialists is dedicated to giving the best in OB/GYN care to Canton and Woodstock residents. If you have any questions or concerns regarding our new system, don't hesitate to contact our office and we'll make sure we get answers to you. Have a suggestion about the patient portal? Let us know!