Meet Our Family
At Cherokee Women's, we are united by a common purpose – to provide exceptional medical care for our patients in a warm and caring environment, making our community a happier, healthier place for all of us.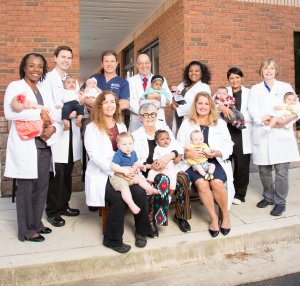 Below is a list of our staff. You can reach any member of our staff by calling the main office at 770.720.7733.
Practice Administration
Michael Litrel, M.D., Cherokee Women's Health Specialists, P.C., Co-founder and Senior Surgeon
Christopher Litrel, Practice Administrator and General Counsel
Gail Jenkins, Deputy Practice Administrator (Human Resources and Finance)
Angel Bobo, Clinical Executive (Quality Assurance, Clinical Trials)
Public Relations and Marketing
Ann Litrel, Public Relations Administrator
Ashley Velez, Digital Marketing Manager
Diane Warren, Graphic Design
Physicians and Providers
Michael Litrel, MD, FACOG, FPMRS
Kami Townsend, MA
Peahen Gandhi, MD, FACOG, FPMRS
Jourdan Adams, MA
James Haley, MD, FACOG, FPMRS
Whitney Jarrett, MA
Kathryn Hale, MD, MPH, FACOG
Suzanne Guthrie, MA
Britton Crigler, MD, FACOG
Sarah Lichtenberger, MA
Kawami Clay, MD
Nicole Smith, MA
Susan Griggs, APRN, CNM
Lisa Kitchens, MA
Ruth Roser, APRN, CNM
Julie Sayers, PA-C
Quality Assurance
Angie Stump, MA
Weight Loss
Brittany Kreider, MA
Janie Russell, MA
Additional Medical Assistants
Yvonda Edmonds, MA – Phone Triage
Brooke McCracken, MA – Phone Triage
Marie Topalova, MA
Monica Wilcox, MA
Ultrasound Technicians
Brenda Peters, Ultrasound
Jaclyn Aponik, Ultrasound
Check-In
Jenny Chastain
Sherene Harati
Check-Out
Maricarmen Montano
Jessica Cadena
Irania Garro
Jana Walker
Call Center/Scheduling
Jodi Farrell
Kimberly Reeves
Karley Setser
Erin Tirado
Billing
Debby Duncan
Jennifer Unterreiner
Renita Hardin
Glenda Smith
Surgery Schedulers
Erica Deese
Wendy Kelley
LaCreisha Wells
Medical Records Request
Debby Duncan
Cosmetic Scheduling
Sophia Soriano
Our Policy
Cherokee Women's is a thriving company and our approach to human resources is simple: We grow people.
We believe in providing great opportunities for people who want to work and learn in their careers.
We believe in promoting from within whenever possible.
And we especially believe in finding and recruiting others like us – Happy, hopeful people who enjoy working with others to create a healthier community.
Take an inside look at our family at Cherokee Women's.
Like us on our Facebook page, follow us on our Twitter page to catch the moments we share with our friends, watch us on our YouTube channel, follow us on Pinterest and;
Sign-up for our e-Newsletter to read our favorite stories, health tips and local resources.
Request a Consultation
Recent Posts
Categories
Testimonials
"Dr. Litrel was a fantastic doctor. I had my first exam with him, although at first I was skeptical about a male doctor for my GYN. But after I met him I'm glad I kept an open mind, and I couldn't have dreamed up a better doctor. He cares about you as a person and not just a patient. The front desk ladies and nurses were very friendly and it's a great office, very clean and not intimidating. I highly recommend Cherokee Women's Health."
– Vicki