Kawami Clay, MD, FACOG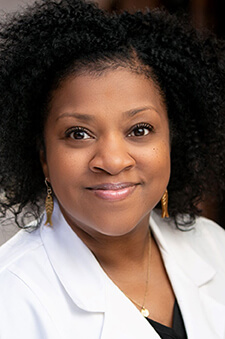 Note: Scroll down to view an interview with Dr. Clay.
Dr. Kawami Clay earned her medical degree from the University of Mississippi School of Medicine in Jackson, Mississippi. She completed her internship and residency in obstetrics and gynecology at Grady Memorial Hospital through Morehouse School of Medicine. Dr. Clay obtained her Bachelors of Science from Emory University in Atlanta, Georgia.
Prior to joining Cherokee Women's Health, Dr. Clay was in practice with Piedmont Physicians in Jasper, Georgia, and at Laurel Family Health Center as the chief of obstetrics and gynecology in Laurel, Mississippi.
Dr. Clay has been practicing medicine for 11 years. She is board-certified in obstetrics and gynecology and is a member of the American College of Obstetricians and Gynecology. She is especially interested in minimally invasive surgery techniques that offer smaller incisions and quicker recovery times for patients.
Patient Care
On her philosophy of patient care, Dr. Clay says, "I have a sister; a mother. I have girlfriends. My patient philosophy is when I walk into a patient room or operating room, I try to treat every patient as a family member. Every patient deserves respect and great health care, and when I encounter a patient, I try to give it to them as I would my sister, or my mother, or one of my very close friends." In her free time, Dr. Clay enjoys traveling, reading, and spending time with her family.

Educational Background
University of Mississippi, Jackson, Mississippi
Morehouse College, Atlanta, Georgia
Emory College of Emory, Atlanta, Georgia
Oxford College of Emory, Oxford, Georgia
Certifications
American College of Obstetricians and Gynecology
Hospital Appointments
Northside Hospital Cherokee, Canton, Georgia
Licensure
State of Georgia
Languages
English
Get to know more about Dr. Clay in this in depth interview.