Kathryn Azelia Hale, MD, MPH, FACOG
Scroll down to see a video with Dr. Hale.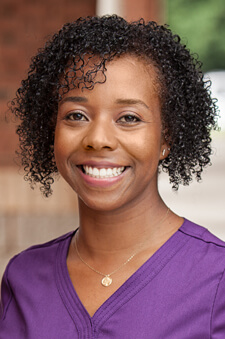 Dr. Kathryn Hale takes a holistic approach when it comes to health. As a young woman she began researching more natural solutions for menstrual health and discovered she had great success following a whole food plant-based diet. This led her to obtain more formal nutrition training to better equip patients to transform their health through diet.
Dr. Hale has been in practice since 2009 and has been with Cherokee Women's Health since 2013. She earned her medical degree and Masters in Public Health from St. George's University School of Medicine in Grenada and completed her residency in OB-GYN at the University of Tennessee Health Science Center.
Outside of the office, Dr. Hale enjoys spending time with her husband and child. She was born and raised in Bermuda, where her parents and two younger siblings still reside. When asked the best piece of advice she'd ever received, she replied, "Keep God first and treat others as you would want to be treated."
Dr. Hale discusses her approach to holistic medicine and what led her to become an OB/GYN.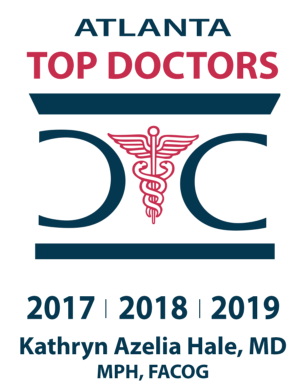 Dr. Hale has been recognized for her outstanding accomplishments and superior patient care by Atlanta magazine.
Educational Background
St. George's University School of Medicine, Grenada
University of Tennessee Health Science Center, Memphis, Tennessee
T. Colin Campbell Center for Nutrition Studies, Certificate in Plant-Based Nutrition
Board Certifications
American Board of Obstetrics and Gynecology
Awards and Honors
Castle Connolly 'Top Doctor' Award in 2017, 2018 & 2019
Alpha Omega Alpha Honor Medical Society
Kaplan Medical Honor Society
Legacy of Excellence
International Honor Medical Society
Dean's List, St. George's University
Sir Henry Tucker Education Grant
Hospital Appointments
Northside Hospital – Cherokee, Canton, Georgia
Licensure
State of Georgia
Languages
English
Learn more about Dr. Hale's holistic approach to health.
Follow Dr. Hale
on Twitter: @DrZeels
on Facebook: Cherokee Women's Health and DrZeels
Read Dr. Hale's Personal Blog
at www.abundanthealthlife.com