Premature Twins Part 2
January 2nd, 2019 by Ann Litrel
"A Ticking Time Bomb" – The Doctor's Perspective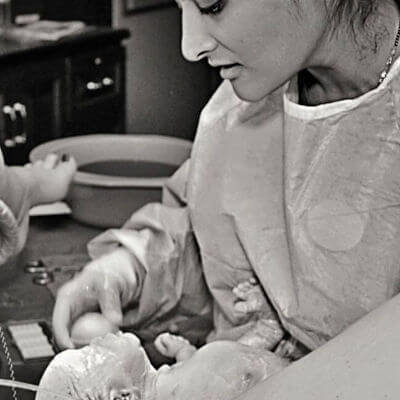 You are giving life to someone who is helpless, and it requires ALL of your attention…you just can't have a bad day. You just can't. – Dr. Peahen Gandhi
Dr. Peahen Gandhi and her Medical Assistant Jourdan worked together for years at Cherokee Women's Health Specialists. Jourdan also saw Dr. Gandhi for her annual OB/GYN care, as Jourdan and her husband planned to start a family.
When Jourdan became pregnant with twins, it was Dr. Gandhi who gave her the surprise announcement and who began Jourdan's pregnancy care. Jourdan's perspective as a young woman with a high risk twin pregnancy is told in her video interview here. Yet for Dr. Gandhi, from the moment she diagnosed Jourdan's pregnancy, her friendship and working relationship with Jourdan became something much more complex –
Jourdan was now a high risk patient under Dr. Gandhi's direct care.
Danger at 28 Weeks: "Something Was Off"
As it turned out, Jourdan's pregnancy would not be an easy one. Early contractions at 22 weeks sent Jourdan to Northside Hospital Cherokee, where she was treated and the contractions eventually stopped. But at 28 weeks came the most dangerous moment of the pregnancy. Jourdan came in for her check-up having contractions. Medication could not stop them. And she was already dilated.
Dr. Gandhi knew that Jourdan's tiny twin boys were not yet ready to survive outside their mother's body. She shares the experience from a doctor's perspective:
"Jourdan is my medical assistant. She's seen me practice for many years now – we've worked together for a really long time. She knows exactly what to say to me to not worry me.
"But that morning something was off. She didn't feel well that day. She said she was feeling some pressure – and that's not uncommon. For our pregnant patients, we sometimes put them on the monitor to see if they're having contractions.
"But when patients have twins, we're a little extra careful. Because they don't have the typical symptoms. Sometimes they may not have contractions but they could still be dilated.
"So I asked her to get an ultrasound and examine her."
Ultrasound Shows Contractions and Growing Dilation
Dr. Gandhi describes the next moments, when it became that things were not going well. "During the ultrasound, Brenda, our ultrasonographer who's been with us many years – twelve-plus years – said, 'You know Dr. Gandhi, I'd like to you to come in here and take a look at this.'"
Dr. Gandhi smiles a bit. "And that's never a very good sign when she asks me to do that.
"Looking at the ultrasound, I could tell that there was only a very thin layer between the presenting part of the baby and the cervix. This means that the cervix has either started to dilate or shorten – there is now very little distance between the bag that holds the baby and the cervix.
"I did a speculum exam and I was able to see right away that she was dilated."
Dr. Gandhi pauses to consider her personal relationship with Jourdan. "Of course, if this is someone you know very well, you don't want to worry them… I took the speculum out and I told her, 'I think we're going to send you to the hospital for some observation.' And she looked at me, kind of worried, and I said, 'Oh yeah, it's probably going to be fine.'"
Balancing Clinical Objectivity with the Personal Relationship
Dr. Gandhi confides that at this point she viewed Jourdan's pregnancy as "a ticking time bomb." Every decision she would make for Jourdan's care was weighed to give her and her babies the best chance of a safe and successful delivery. At 28 weeks, the contractions and dilation were life-threatening for the babies.
"In the back of my mind, I know what all this means. She's very early, she's only 28 weeks, she's already 2 centimeters dilated and she is having twins – which is all a package – it's kind of like a ticking time bomb.
"You have to be kind of conservative because the babies are early, but you don't really know how much time you have in order to make sure that the babies have the best chance of surviving, to do well should they be born early. And at the same time you have to make sure you're taking the precautions needed to get her to the right facility and be around the right pediatric care."
Dr. Gandhi called the ambulance and had Jourdan taken directly from the office to Northside Hospital, where Dr. Gandhi met her shortly afterward.
"Her whole family was there – she has a very large, loving family – and of course she's having twins, so they're all very excited – but NERVOUS…"
"As her physician, I have to talk to her, be objective and explain the things that can go wrong – but at the same time make her feel comfortable. And that's very hard to do – especially when you're dealing with babies that are not even two pounds, advising her about the risks of them being born early – you're trying to stop her contractions and also make her feel calm.
"I did send her to Northside Atlanta, where they have a NICU that's equipped to handle very early care like that. We will now have the ability here at Northside Cherokee to handle preemies – as early as 32 weeks.
"So we called the ambulance. I was in contact with her the whole time."
Pre-Term Labor With Twins
Dr. Gandhi pauses a moment to talk about the clinical aspect of twin pregnancy and pre-term labor. "Pre-term labor happens in 11-12 per cent of pregnancies – and it's scary because sometimes – many times – it's a false alarm.
"But when it does happen, and it when it happens that early, it is so important to recognize it, and to intervene as quickly as possible. We want to give the baby – or potentially babies – enough time to get prepared so that the pediatric staff and the NICU staff have the best chances of providing great survival."
In this instance of pre-term labor at 28 weeks, Jourdan's contractions were eventually stopped and she was able to go home. Dr. Gandhi ordered Jourdan on strict bedrest. As her physician, she remained watchful and called Jourdan every day, knowing that her medical judgment could be the critical factor keeping Jourdan and her babies safe for the remainder of the pregnancy.
Finally Jourdan went into labor at 33 weeks. Dr. Gandhi relates that she safely delivered her twin boys by C-section. The babies were cared for in the NICU at Northside Hospital Cherokee for several weeks until they were breathing and eating on their own, and finally able to come home.
"The way technology is now," Dr. Gandhi explains, "we have the capability of take care of these very, very premature babies in the NICU. But each moment the mom is away from the baby – because the baby is in the nursery – it's heartbreaking. I sympathize with women who have to go through this. Not only because I'm an OB/GYN but because Jourdan is a very close friend –
"And I saw her through THAT side – not just the medical side."
Obstetrics – Joy and Emergencies
As the interview concludes, Dr. Gandhi reflects on caring for patients in the specialty of Obstetrics. "As obstetricians, we have the JOY of delivering babies and everything is going fine, everything is normal and everybody is excited…
"But we get to see emergencies, too, and it's so hard because you are giving life to someone who is helpless, and it requires ALL of your attention. And you have to – well, you just can't have a bad day. You just can't." Her voice is serious.
"The patients rely on you – and the baby relies on you."
Then Dr. Gandhi relaxes a bit and says with her characteristic smile, "Well, it was a little intense. But in the end it all worked out – Jourdan was completely stabilized. She ended up delivering at 33 weeks. And they did great – her boys, Briar and Wyatt."
She fights through a hint of emotion and finishes with a smile. "It's such a blessing to have someone in our own Cherokee Women's family have a great outcome like that – and me being a part of it –
"It's just a huge privilege."
Read more on this story here: Premature Twins Part 1 – – A Young Mother Rides the Emotional Roller Coaster