Meet Dr. Kawami Clay,Newest Member of the Cherokee Women's Health Team
May 23rd, 2017 by Diane
Dr. Kawami Clay will join the CWHS team this summer. Learn more about what inspired her to become an OB-GYN and what she enjoys most about working with her patients.
Dr. Clay was born and raised in Mississippi and came to Georgia for her undergraduate and graduate degrees. After spending about eight years in Georgia, and completing her residency during that time, she moved back to Mississippi to spend time with family. She soon realized that she missed Georgia, and eventually moved back to the area.
When did you know you wanted to practice medicine or did you always know you wanted to be a doctor?
My grandmother was a diabetic and I remember being 7 years old and having to give her insulin injections. That's when I knew that I wanted to practice medicine. I liked knowing that I helped her and she felt better. When I was in high school, I shadowed my uncle, who was an OB-GYN, for a few years during the summer.  Those summer confirmed that I wanted to treat women and provide them with excellent healthcare. My Uncle was a great mentor to me during this time. I was always around him, and the knowledge kind of came to me secondhand.
How is your work different from what you envisioned when you were younger? How is it the same?
I'm not sure if it's different, really. It's definitely the same in that I'm helping patients every day, providing care that will make them feel better, make their situation better, and resolve their health issues. At the same time, I get a warm fuzzy feeling knowing I'm helping them.
What was it about obstetrics and gynecology that interested you?
I was interested in working with women and providing them good health care. I knew early on from working with my Uncle that I wanted to focus specifically on women's health. On the side of obstetrics, delivering babies is always a plus. It's such a happy time, and being a part of that always makes me feel good about my work.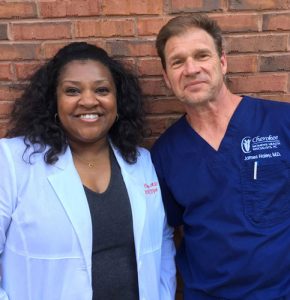 Are there any specific areas within OB/GYN that you specialize in or that interest you?
I am especially interested in minimally invasive surgery, also referred to as Laparoscopic Surgery. Laparoscopic surgery means smaller incisions and quicker recoveries for our patients.
What do you enjoy most about working with your patients?
I enjoy the relationships with the patients. When you really get to know a patient, for example, when you start taking care of them during their pregnancy, you develop a special relationship that continues to grow over time. Then, after the baby comes, they come back to see you (for an annual checkup, or to solve a problem) and you've gotten to know them as a person. That relationship is so important to allow patients to open up and tell you what's really going on, like talking to an old friend. It provides better healthcare when the physician and patient can have an honest dialogue about the issues so they can solve them together.
What is your patient philosophy of care?
I have a sister; a mother. I have girlfriends. My patient philosophy is when I walk into a patient room or operating room, I try to treat every patient as a family member. Every patient deserves respect and great health care, and when I encounter a patient, I try to give it to them as I would my sister, or my mother, or one of my very close friends.
What is the best way anyone could compliment you about your work?
I am very bad about not letting things go. My sister will call me and say, "You're still at work? You need to go home!" It's a compliment, really; other people recognize I'm working hard, but I have a tendency to keep working and not stop. It's hard when you relate to and care about your patients, you find yourself really going the extra mile for each and every one to make sure they're getting the best care.
You came back to Georgia after spending time in Mississippi after graduating. What brought you back?
I lived in Georgia for four years during my undergraduate and four years during residency, and had some of my most memorable experiences here. I missed the arts and culture, festivals, sports and history and heritage of the area.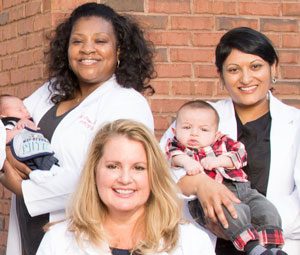 What do you enjoy doing in your spare time?
I like to travel when I get a chance (mostly domestic), and I enjoy spending time with my family. I have a 2-year old godson, and I enjoy attending all of his special events and birthday parties.
If you weren't an OB/GYN, what other profession would you like to have?
I think I would want to be a writer. I love to write, and love to read, and I don't get to do much of either anymore. But I really enjoyed writing in high school and college. I could really see myself taking a stab at it if given the opportunity in another life.
Cherokee Women's is so excited to have Dr. Clay join our team. Please join us in giving her a warm welcome!
Request a Consultation
Recent Posts
Categories
Testimonials
"Dr. Litrel was a fantastic doctor. I had my first exam with him, although at first I was skeptical about a male doctor for my GYN. But after I met him I'm glad I kept an open mind, and I couldn't have dreamed up a better doctor. He cares about you as a person and not just a patient. The front desk ladies and nurses were very friendly and it's a great office, very clean and not intimidating. I highly recommend Cherokee Women's Health."
– Vicki
Read more testimonials: