Cosmetic Surgery and Health
December 6th, 2016 by Diane
There is a clear relationship between cosmetic surgery and health. For the majority of us, there are things about our appearance that we find displeasing. Perhaps it's the shape of our body, or we think we're too fat, our waist is too big, or a woman might think her breasts are too small, or too big.
Whatever it may be, there are common surgical techniques in our modern era that allow us to transform the shape and appearance of a person's body. If this leads to a person liking the way they look more, then perhaps cosmetic surgery can improve a person's happiness and sense of well-being. This in turn, can lead to improved social relationships since someone who is more content with themselves often enjoys more success and happiness.
The Shadowy Side of Cosmetic Surgery
But there is a shadowy side to cosmetic surgery that anyone who is considering such operations should be aware of.  There are many patients who have gotten operation after operation only to find that they're still not as happy as they'd hoped. The issue at the core is that our health and happiness in life cannot be exclusively about the way your body looks in the mirror. Anyone who lives their life with this thinking will inevitably suffer, especially during the inevitable aging process.
It's an interesting phenomenon, unique to human beings, that we judge the way we look.  A dog or cat or squirrel does not spend time looking in the mirror and judging itself. The difference between human beings and other life forms on earth, as we understand it, has to do with our self-awareness.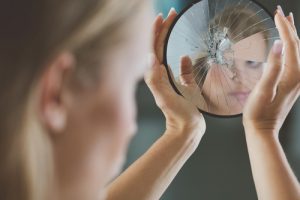 From a metaphorical sense, this is what is meant in the Bible in terms of eating from the tree of knowledge. The garden of Eden is a metaphorical representation of the time in our existence when we were not aware of our appearance or how others might judge our appearances.
Judgment Call
We have all experienced this lack of awareness in our own lives and it usually occurs during our childhood. This was a more blissful time, before the awakening of sexual desire. But then all of this changes with puberty, because we become acutely aware of our own self and the physical attraction we feel toward the opposite gender. It's then when we most become aware that not only are we judging ourselves, but others are judging us as well.
This can be a painful time, when we conclude through rejection from others that we are not worthy of love. We learn to dislike ourselves and sometimes even hate who we are. This, of course, is not a healthy way to live.
Perhaps a skillful cosmetic surgeon can change the appearance of the face or body we see in the mirror. Perhaps these changes can help us feel better. But if we simply do not like ourselves because of childhood pain, no amount of cosmetic surgery will lead us to health, no matter how skillfully performed.
Request a Consultation
Recent Posts
Categories
Testimonials
"Dr. Litrel was a fantastic doctor. I had my first exam with him, although at first I was skeptical about a male doctor for my GYN. But after I met him I'm glad I kept an open mind, and I couldn't have dreamed up a better doctor. He cares about you as a person and not just a patient. The front desk ladies and nurses were very friendly and it's a great office, very clean and not intimidating. I highly recommend Cherokee Women's Health."
– Vicki
Read more testimonials: