Dr. Crigler Talks Women, Food and Family
August 2nd, 2016 by Diane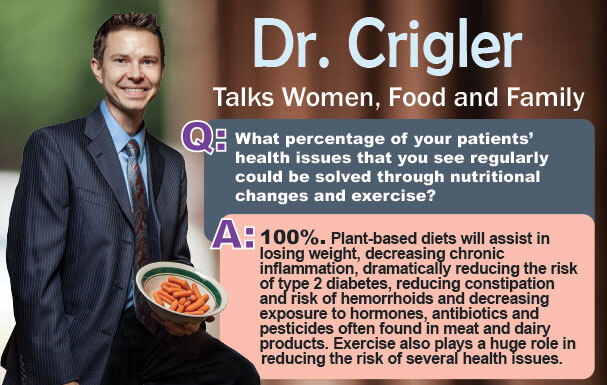 As an OB-GYN who's a vegan, husband and father, Dr. Crigler shares his views on diet, exercise, and bringing patients a great health experience. Working in the field of women's health – as does his wife Lauren – he talks about how they've shaped each other's practices, and how he turns off his "clinical side" at home.
12 Symptoms, One Fix:

How Can Patients Experience Better Health?
Q: From your recent blogs, it's evident that you and your family maintain a proper diet as the foundation for your health. Does going vegan have any advantages for female reproductive health, and if so, what are they?
Dr. Crigler: A plant based diet has multiple benefits for women's health, including decreased risk of breast, ovarian and colon cancer. Meat and dairy have both been associated with increased risks of each of these cancers. Even for our pregnant patients, a vegan or plant based diet free of dairy and meat can be very healthy for both baby and mother. As we recommend taking prenatal vitamins for all women, supplementing vitamin D and B12 is more important with a vegan diet. This diet has also been associated with a decreased risk of preeclampsia. It also results in a purer breast milk with no added hormones and less risk of food allergies for the infant.
In addition to female health improvements decreasing the cancers I spoke about, I want to mention lupus, acne, high cholesterol, irritable bowel syndrome and heart disease as conditions that are likely improved with plant based diet changes.
Q: What percentage of the health problems you deal with regularly would you guesstimate might easily be solved through nutritional changes and exercise? Can you give some examples?
Dr. Crigler: 100%. Plant based diets will assist in losing weight, decreased systemic inflammation of the body, decrease incidence of type 2 noninsulin dependent diabetes, decrease constipation and risk of hemorrhoids (for our pregnant patients) and help decrease exposure to exogenous hormones often found in meat and dairy products. Exercise helps maintain ideal body weight, increase insulin sensitivity (reducing gestational diabetes) and also helps keep mom in shape for the laboring process. After all, they don't call it labor for nothing! Northside Hospital Cherokee has a good online maternity resource- that's one place to start.
Q: Now that you've been in private practice for several years, are there additional areas of knowledge in women's health care you would like to explore to better help your patients?
Dr. Crigler: Many of my patients ask me about sexual health including pain with intercourse, decreased sexual desire, inability to climax and vaginal dryness. While a very sensitive topic, this is very important for the health of a relationship and the mental and physical health of the patient.
I plan to explore dietary, natural, non-invasive medical devices, pharmaceutical, and surgical ways to help patients address these important concerns.
Q: Every doctor has his or her own approach to making a patient feel comfortable. How do you personally try to put your patients at ease to encourage open, honest dialogue?
Dr. Crigler: I try to imagine how I would want my two sisters, mother or wife to be treated during a gynecologic visit. I sit down and I listen. I realize these conversations are quite personal and that I may be the only person in the position to address these issues. I attempt to destigmatize these topics; such as painful intercourse, fecal or urinary incontinence or inability to orgasm.
Q: After each patient appointment, what do you want the patient to have or to have experienced when they leave?
Dr. Crigler: I want them to feel they were given the opportunity to express their concerns, they were listened to and that I truly care about helping them. I want them to come out with a better understanding of their health condition or problem and be confident in the treatment plan that we make together.
Q: Can you share an example of a patient where one appointment made a difference in their health decisions or treatment?
Dr. Crigler: I saw an 80 year old diabetic, arthritic patient with complete pelvic prolapse who still lived on her own, cooked for herself, and really valued her independence. Two doctors at other clinics recommended different surgeries that would likely take weeks to months to recover from and put her at risk of infection. I saw her as a 3rd opinion and offered her a pessary to hold everything in place. We happened to have the exact size she needed in stock and she left that day with a cure to her prolapse, no recovery time and I am sure made it home in time to cook her own dinner.
Husband and Father:
A Wide Perspective on Women's Health
Q: There are many similarities between your profession and your wife's, in that you both deal with the health and maintenance of the human body by reducing pain and restoring function—you, medically and she, therapeutically. Is that a coincidence, or did one of you inspire the other to select your specialty?
Dr. Crigler: We met in our anatomy class in medical school, so we were already on a path to helping people in the medical field. Our emphasis on the role that diet and exercise play in health, pain, function and disease prevention was mutually inspired with the help of several documentaries and books for inspiration.
Q: How much impact and input do you have on each other's professions? For example, does your medical knowledge help your wife Lauren understand her patients better—and does Lauren's input of what her patients go through during therapy (ie; pain, struggle, mental issues, etc.) help you approach your own patients with more enlightenment?
Dr. Crigler: Our professions impact each other's quite a bit. We talk about the impact of medication, food and therapeutic exercise in all kinds of conditions. Medical doctors tend to emphasize freedom from symptoms while physical therapists emphasize increased function. We both have several techniques that help meet both of those goals for a more holistic treatment plan. We enjoy learning from one another and most definitely provide better care for our patients due to all of these free consults.
Q: Other than the usual 'how was your day?', do you normally leave shop talk at work, or do you find it makes for interesting conversation at home?
Dr. Crigler: I might discuss interesting or challenging cases with Lauren, especially if I am looking for a different perspective or physical therapy ideas. When I am on call, I usually just report any number of babies I delivered that night. She gets excited about every one as she reminisces about her deliveries. It makes not having me home worth it when she knows that another woman was having a life changing experience.
Q: After dealing with patient health issues all day, do either of you find it difficult to turn off your clinical sides?
Dr. Crigler: That's funny. The very first thing I hear when I get home is "daddy, daddy, daddy, huggy, huggy". After the hugs and kisses, I get to hear about their superheros and construction sites for about 30 minutes until we wind down for bath and our bedtime routine. Having my sons so excited to see me makes it pretty easy to put on my daddy hat and leave work behind…until they go to sleep that is.
Q: You mentioned that you had the privilege of not just seeing your sons being born, but also delivering them yourself. Do you remember your first thoughts as they both came into the world, or did you remain in 'doctor mode' until the whole process was over?
Dr. Crigler: I was in residency while both my sons were born so while I had delivered a couple of hundred babies already, I was still nervous. I did my best to play both the supportive husband and skilled obstetrician role at the same time during the labor. As they were crowning, I did tear up in amazement that we had made this miracle, and then simultaneously, as trained, remembered "protect the perineum", in hopes to limit any vaginal tears. After delivery, I placed them both on my wife's chest, cut the cords, and then went into complete husband-daddy role. 
Snapshot: Medical Rescue
Q: Almost every medical TV show and movie shows the star physician out somewhere on his day off enjoying a dinner or other relaxing activity. He's minding his own business, when suddenly some drama occurs that requires the help of a doctor. Has this ever happened to you?
Dr. Crigler: Just last weekend my family and I went up to Cave Spring, GA to take the kids to the springs and cave. On our way back, it was raining and we rode by a serious collision on the opposite side of the road that appeared to have just happened. I immediately pulled into the closest gas station and left the kids and Lauren in the car to run across the median to help out. Fortunately, only one person was injured and she was talking. She did have a large laceration on her head, complained of neck pain, was very anxious and had evidence of a concussion. With the help of a couple of other Good Samaritans, we comforted her, stabilized her neck, and controlled the bleeding until EMS arrived. I then ran back, soaked, to my family as we rode carefully home, thankful everyone was safe and healthy.
Request a Consultation
Recent Posts
Categories
Testimonials
"Dr. Litrel was a fantastic doctor. I had my first exam with him, although at first I was skeptical about a male doctor for my GYN. But after I met him I'm glad I kept an open mind, and I couldn't have dreamed up a better doctor. He cares about you as a person and not just a patient. The front desk ladies and nurses were very friendly and it's a great office, very clean and not intimidating. I highly recommend Cherokee Women's Health."
– Vicki
Read more testimonials: