Dr. Crigler on Being an OB/GYN, a Vegan and a…Nanny?
February 3rd, 2016 by Diane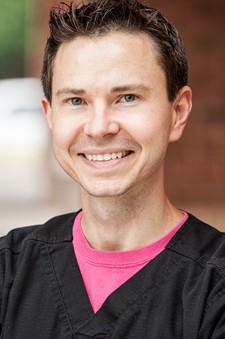 A

n Interview with Britton Crigler, MD, FACOG 
What made you want to become a vegan?
My wife and I made the decision together. She was a vegetarian in the past, and studied nutrition in college, so she has an understanding of how meat is processed and the affects it has on the environment and our health. I grew up in a southern cooking meat and potatoes family so if I can make the change, anyone can!
Our path toward a plant-based diet started on a medical mission trip to Ecuador while I was in medical school. I volunteered at a women's health hospital while Lauren volunteered in the physical therapy department of a military hospital. We lived with a family for a month and were fed a mostly plant-based diet. In Ecuador, a typical meal consists of vegetable soup, a cooked whole grain, one or two cooked vegetable dishes and maybe a small (3 ounces or so) side of meat. They had very limited access to fast food chains and processed foods. Their small portions of meat may have stemmed from lower economic means, but they were eating healthier meals than most Americans! That's when the idea of limiting our meat and dairy intake first began. During my residency in Tampa, we decided to switch to a completely plant-based diet.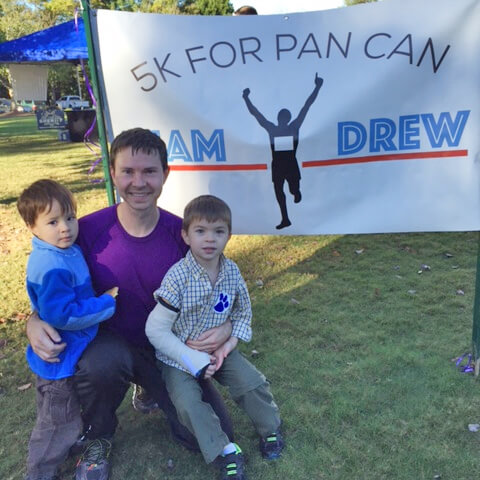 What's the key to making dietary changes such as switching to a vegan diet work? (Especially in a family with two small children?)
One key step is to recruit people around you to help you make the change:
It's important to include the whole family. My kids eat everything we eat: carrots, broccoli, spinach, hummus, whole grains and legumes. We expose them to everything we eat, so they eat different types of cuisine including Indian, Thai, Vietnamese, South American and African. (I am also lucky that I have a wife who cooks really well and tries new dishes!) We eat a larger variety of food now than we did before we switched to a plant-based diet. That exposure to different foods in childhood is important, although I think my 3-year-old son would be a fruitatarian if he were given the choice. My oldest son is five and in kindergarten so we pack his lunch. It takes my wife about five minutes each morning, which we consider to be a small investment in our child's health. We're also not really strict if they attend a birthday party and eat cake or something like that.
Another key is: don't keep unhealthy food in the house.
Eating a whole food plant-based diet is relatively easy for our family because healthy food is the only option we have. There's no processed food in our house, so we don't have an opportunity to eat it!
My other advice is to make changes that are sustainable to your budget.
We focus on buying food we know we'll eat, and we tend to waste very little food. Choosing things like dried beans, legumes and whole grains will last much longer in your pantry and are a lot cheaper than buying meat every week.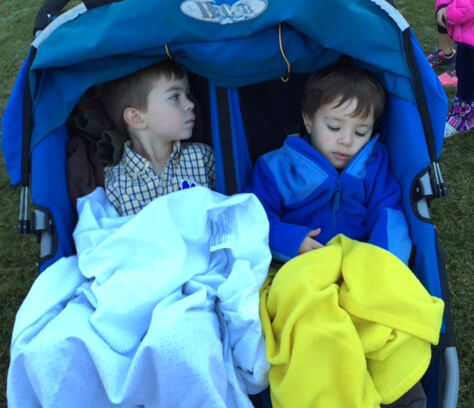 February is American Heart Month. What are some of the easiest ways women can take better care of themselves with a focus on their hearts?
Lowering cholesterol has a huge positive impact on heart health, and anyone can decrease their cholesterol by avoiding or eating less animal products. Also, cardiovascular exercise at least 3-5 times a week for at least 30 minutes can really improve heart health. The key is to choose an activity that you enjoy so you'll want to continue. The added usage of technology like Fitbits and pedometers can help encourage you to move more and make small changes every day.
What's the best way to go about choosing a physical activity?
You need to choose an exercise type and intensity level that's right for you (if you're arthritic, for instance, long distance running may not be the best option). Whether it's biking, running, swimming, or something else, making attainable goals can help to improve your motivation. Then update your goals as your reach them. Also, having somebody to hold you accountable is helpful. It can be a friend, spouse, workout partner or personal trainer. My brother-in-law is a real inspiration to me. He has run at least a mile every single day for the last eight years, rain or shine. His dedication is a reminder to me to always stay active, no matter what. (Fun fact: My brother-in-law is a track coach and was inspired by my wife to begin his running streak. She beat him in a 5K and he started his streak the very next day!)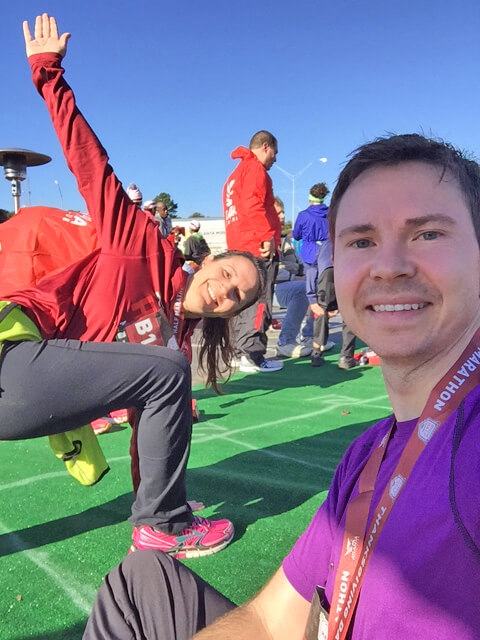 You and your wife Lauren are big fans of running to keep physically fit. Do you have any marathons or other events you're planning on participating in this year?

We did the Atlanta half marathon for the past two years and will continue this tradition for as long as we can. We also really enjoy supporting local 5Ks so I'm sure we'll be running with our jogging strollers through a few of those.

What is the best way anyone could compliment you about your work?
I want my patients to feel comfortable and cared for like a member of my family. Our patients often share some of the most significant events of their lives with us. So, to have them tell me that they felt cared for means the world to me. Also, when they send their family members and friends to me, it's a huge compliment.
What was the most unusual job you ever had?
I was a nanny for a six-month old through his second birthday right after college, in between college and medical school (it helped pay my rent). I was also a lifeguard and waited tables. Waiting tables was a skill that turned out to be helpful as far as being able to multitask and keep track of all the patients we have in one day. (We're sensing a theme here – Dr. Litrel said the same thing about his time waiting tables!)
If you won the lottery and never had to work again, how would you spend your time?
Traveling. I'd love to visit Australia, South America, and Europe; pretty much everywhere.
JUST FOR FUN:
Would you rather skydive or hang glide?
My wife would never let me skydive, haha. I think I would prefer hang gliding anyway. I think I'd like the sensation of flying as opposed to just falling. Hang gliding also lasts longer and you'd get to see more stuff.
What category on a quiz show would you select at the best chance of winning?
After medical facts and cool baby names, probably anything related to cars. Either "Name That Car" or "Random Facts About Sports Cars." (I drive an electric car because I'm a bit of an environmentalist, but a guy can dream!)
Request a Consultation
Recent Posts
Categories
Testimonials
"Dr. Litrel was a fantastic doctor. I had my first exam with him, although at first I was skeptical about a male doctor for my GYN. But after I met him I'm glad I kept an open mind, and I couldn't have dreamed up a better doctor. He cares about you as a person and not just a patient. The front desk ladies and nurses were very friendly and it's a great office, very clean and not intimidating. I highly recommend Cherokee Women's Health."
– Vicki
Read more testimonials: