July 14, 2016
A mother's body is more than just a home as her baby grows: it is protection, sustenance, and strength. When a mother eats well, exercises, and takes care of her body, she is also helping her baby grow healthy and strong. Vaccines can help both mother and baby stay healthy during pregnancy and the early postpartum months. But not all immunizations are safe for pregnant women. If you're trying to expand your family, here's everything you need to know about vaccines during pregnancy.
Pre-Pregnancy Vaccines
If you're trying to become pregnant, you likely have a list of things to eat, avoid, measure, and track. Moms-to-(Hopefully)-Be can add "vaccinations" to the list. Vaccines that contain traces of live viruses aren't safe for pregnant women. Get these immunizations at least one month before trying to become pregnant. To prevent illness and infection during pregnancy (for both yourself and your baby), make sure you're up-to-date on these vaccines.
MMR (Measles, Mumps, and Rubella vaccine)

Chickenpox vaccine
Safe Vaccines During Pregnancy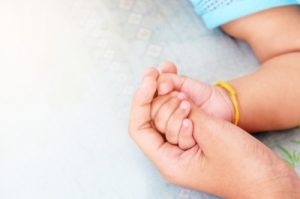 According to the CDC, some vaccines are safe for pregnant or breastfeeding mothers. The flu shot is recommended for pregnant women during flu season (November-March). The flu shot, which is made of dead strains of the virus, is safe for both mother and child. Vaccines that contain live viruses, such as some flu nasal sprays, are not safe during pregnancy. The TDAP vaccine, which protects against whooping cough, is made with toxoids (bacterial proteins which have been chemically altered), and is also safe for pregnant women. Other low-risk vaccines, such as the Pneumococcal vaccine and Hepatitis B vaccine, may be recommended by your physician based on your individual risk of contracting the disease.
Post-Pregnancy Vaccines
If you weren't able to get up-to-date before welcoming your bundle of joy aboard, the postnatal period is the time to get caught up on your adult vaccinations. Parents should get immunized to protect their infants while they're still too young for some vaccinations. Breastfeeding mothers can follow a normal adult vaccination schedule.
For more information about which vaccines are safe during pregnancy, call Cherokee Women's Health.